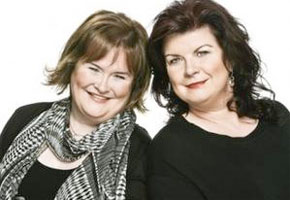 First it was Elvis, then the Four Seasons, and most recently Spider-Man; you're not really anyone in this business we call show until you've had your life story told on Broadway (or local equivalent).
And the latest recipient of this (slightly dubious) honour is Susan Boyle, our most startlingly gifted reality TV talent show entrant to date, are being made into a stage musical, which will open in Newcastle next March.
It will be called I Dreamed A Dream, and will star Elaine C Smith, who is probably best known to British audiences as the wife of the eponymous hero in the Scottish BBC comedy show Rab C Nesbitt.
In a press release, the show's producer, Michael Harrison said the SuBo story has all the hallmarks of a modern classic: "She is an inspiring woman and her story is an excellent one to tell – someone with a raw talent who surprises the world and overturns all the odds to make a new life for herself.
"It's got all the qualities of a fairytale, but with the added bonus of being absolutely true."
But what of Susan herself? Well naturally, she's thrilled.
She said: "I never thought my life story would end up on the stage but a lot has happened in two years and it is a very exciting prospect."
"I hope everyone enjoys the show and I promise there will be a few surprises along the way."
Which just leaves one question… who is going to play Simon Cowell?
Would you rather go and see I Dreamed A Dream, or SuBo in concert? Tell us here.
Read More
Filed Under: