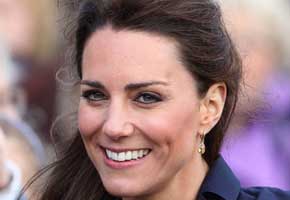 It seems that Kate Middleton has quite the family tree. We already know that she's linked to American chat show host Ellen DeGeneres, and now some new genealogy research reveals that she and Jane Austen are also related.
According to Reuters, Ancestry.com says that Kate and the English novelist, whose celebrated works include Sense and Sensibility, Emma and Pride and Prejudice, "are 11th cousins, six times removed due to their 15th century common ancestor Henry Percy, who was the 2nd Earl of Northumberland."
Anastasia Harman, lead family historian for Ancestry.com, explained: "Finding this connection between the Duchess of Cambridge and Jane Austen is very exciting since, in many ways, Catherine is the modern Jane Austen heroine: a middle class girl marrying the future King of England."
She continued: "Jane Austen may have written about happily-ever-after but it seems Catherine has found a nonfiction hero to spend her life with – far past the epilogue."
The royals' lineage sure stretches far and wide, doesn't it? In mid-May, we learned that Johnny Depp is a long, long, long, lonnnng lost relative of The Queen.
In other royal-related news:
• Who doesn't have a crush on Prince Harry these days? Adele recently confessed that she'd like a date with the single ginger prince. English model and actress Rosie Huntington-Whiteley says she too adores him. When visiting LIVE! With Regis And Kelly on Tuesday (June 28), the Transformers 3 star, who dates British actor Jason Statham, playfully joked, "I'm waiting for my proposal. I keep writing and we'll see what happens. He's so handsome… Come on Harry."
• Chris Colfer wants to bring Princess Beatrice and Princess Eugenie to Glee. The American actor, who plays the royal-lovin' Kurt Hummel on the show, hung out with Bea and Eugenie, as well as Prince Harry, at last Friday's (June 24) Hard Rock Calling concert at London's Hyde Park. And apparently, Eugenie was hoping to get some inside gossip relating to the Fox show's forthcoming season. "The princesses love Glee," Colfer told The Sun. "We've got the royal seal of approval. Maybe we can get them a cameo on the show. Wouldn't that be amazing?" Oh wow, would it be just perfect if the two sisters somehow showed up in Hummel's Broadway play, "Pip, Pip Hooray"?
• On Friday (July 1), the late Princess Diana would have celebrated her 50th birthday. Newsweek Editor-in-Chief Tina Brown pens a lovely tribute of what could have been in the magazine's new issue, and its front cover also features Diana superimposed next to her son's new bride.
• Speaking of Lady Di, please visit the BBC America Facebook page to share your most favorite memories of "the People's Princess." Your comments could be included in a post on the Royal Insider later this week.
Read More
Filed Under: