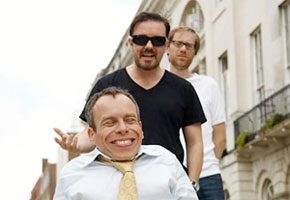 Fresh details have emerged about Ricky Gervais and Stephen Merchant's new series, the follow-up to Extras and The Office, which will be hitting BBC screens later this year.
The show is called Life's Too Short, and it's another mock-documentary set in the media world. This time, the star is the dwarf actor Warwick Davis, who you'll have seen in the Harry Potter films, Willow, or even Star Wars: Return of the Jedi (assuming your eyes can penetrate Ewok-skin).
He plays Warwick Davis , a dwarf actor who runs a booking agency for dwarf actors, called Dwarves For Hire, but takes all the plum roles for himself. Naturally Warwick isn't being himself, but he presents himself as an ego-driven, underhand sort of actor, desperate for fame, but thwarted by his own shortsightedness. His only reason for doing the documentary, for example. is an imminent tax bill.
Here's a special filmed message from Ricky, on the set:
Want to play Where's Waldo? with the cameo appearances there? OK, GO!
Read More
Filed Under: