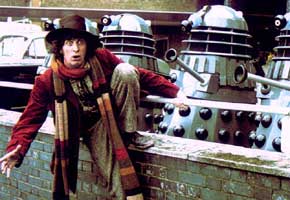 We all remember seeing the final battle between Jon Pertwee's Doctor and Roger Delgado's Master, in which the Master dies and the Doctor is forced to regenerate, right? Or that brilliant film where Tom Baker's Doctor battles the Scratchman. No? How about the episode where Colin Baker's Doctor and Peri Brown go to Blackpool and get imprisoned in a video game?
Don't panic, we're not making these up, here's Den of Geek's roundup of Doctor Who stories and spin-offs that never quite got made.
• Longtime Whovian Chris Balcombe is giving a few of his neighborhood squirrels a chance to take on The Doctor. The Daily Mail reveals that Balcombe has created a mini Dalek bird feeder that's "stuffed with peanuts" for his pesky yard buddies. If you don't believe us, just check out the photos! Side note: Balcombe is the same fella behind that super festive royal wedding Dalek.
• When Tim Ingham married his girlfriend, Laura, earlier this month, the absolute last thing on his mind was seeing a giant TARDIS at his reception. "I came face-to-face with a screen-accurate TARDIS and it was a massive surprise," he told This is Lincolnshire. "It was organized by my wife and dad and everyone knew except for me. We did some shots around the TARDIS with the photographer – and they're already on my Facebook page. I'm chuffed to bits."
• If you find yourself eager to write a gushing fan letter to The Doctor, reach for this mega-cool traveling TARDIS pen!
• What if Charlie Brown and the rest of the Peanuts gang traveled the Whoniverse? Would Charlie be sporting a bowtie and a tweed jacket instead of his signature black and yellow shirt? Would Linus be without his trusty blanket? Artist Larry Wentzel is a brilliant, brilliant man.
• A Doctor World comes together with A Softer World to create some pretty impressive Doctor Who-inspired haikus. Bless you, io9 for sharing.
• And speaking of some interesting wordplay, have you seen Texts from the TARDIS yet?
• When it comes to baking cakes based on Doctor Who, some characters are easier to represent than others. A dalek, for example, would be relatively straightforward. A TARDIS, or even K-9, should be no problem to seasoned bakers. But how about a cyberman? Not just his head either, a fully standing-up cyberman; pretty tricky, eh? Well yes, but still possible. Look!
• Holy smokes, Batman! As he previously teased, Matt Smith ventured to Los Angeles recently to test his comedy skills in 24 Hour Plays. This time, he sported some big guns like the above mentioned comic book hero and gave him a cockney accent.
• And while Matt was parading around in a cape, who was taking the opportunity to try on his abandoned trousers? None other than girlfriend Daisy Lowe, according to the Daily Express.
Read More
Filed Under: