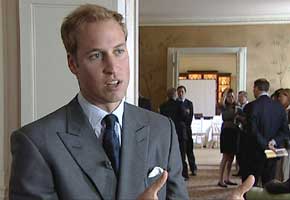 Happy Birthday to Prince William! The Duke of Cambridge turned 29 today (June 21), but such an occasion was a quiet one as Wills kept busy with his Royal Air Force pilot duties in Anglesey, North Wales.
And since we honored Duchess Catherine in a similar fashion in January, we'd like to share our 29 reasons why we're crazy for England's future king.
29. William looked totally badass in a bearskin hat during the annual Trooping the Colour ceremony on June 11.
28. He also looked quite regal in his Order of the Garter uniform just a few days later.
27. Wills made sure he chatted with President Barack Obama and First Lady Michelle during the UK state visit in late May.
26. Dude has his own commemorative coin. The Royal Mail also paid tribute to him and Kate with their own commemorative stamp collection.
25. It's no secret that the Prince is quite accommodating when lending a helping hand, but last month he tested his search-and-rescue skills during three emergency evacuations in Wales.
24. He's an animal lover. Shortly after the royal wedding, the Duke and Duchess adopted an endangered baby penguin named Acorn.
23. At the end of June, William will accompany his bride on what is her first visit to North America. The royal newlyweds will split their time between Canada and California.
22. And when they're in the Golden State, Wills and his wife will reportedly discuss some of Britain's "undiscovered actors, directors, writers and designers" while rubbing elbows with big-shot studio execs at the BAFTA Brits to Watch party.
21. We think it's pretty darn impressive that Wills didn't ask his bride to sign a pre-nup.
20. We love the fact that William wants to start his newlywed life in North Wales without a staff of servants.
19. We assume he knows his way around a kitchen, as he flipped a pretty mean pancake when visiting Belfast in March.
18. Nevermind his fading hairline. Wills looked great, not to mention happy, in his and Kate's official engagement photos taken by Mario Testino.
17. Have we talked too much about his dashing good looks? Nah. Ok, he looked especially dapper on his April 29 wedding day.
16. Plus, he doesn't look too shabby when sportin' a beard.
15. William's likeness was cast in wax by one New York artist. You can also knit you very own Prince William doll.
14. William and his younger brother, Prince Harry, are very close. Together, they often participate in numerous charity events, including the "1,000-mile charity motorbike trek across South Africa" in 2008. And most recently, the two faced off in the Sentebale Polo Cup, which raised funds for orphans in Lesotho.
13. He's totally cool with Kate obtaining her "fixed wing license," courtesy of his little bro.
12. When it comes to the royal newlyweds' four-bedroom Kensington Palace cottage, William has no problem with Kate overseeing its décor.
11. While still in the throes of wedding mania earlier this spring, William headed down under to meet with survivors, as well as rescue workers, affected by the February earthquake in Christchurch, New Zealand.
10. Borrowing his dad Prince Charles' prized navy blue Aston Martin to exit Buckingham Palace after walking down the aisle was pure class.
9. He and his stepmother, Camilla, Duchess of Cornwall, have a great relationship. Prior to asking for Kate's hand in marriage, Wills reportedly went to Camilla for some friendly words of advice. "Prince William gets on very well with the Duchess of Cornwall and she is always keen to offer advice and support to both the princes if they ask for it," one royal source told The Daily Telegraph.
8. Prior to walking down the aisle on the morning of April 29, William spent his last night as a single man hanging out with his father at St. James Palace.
7. During his royal wedding speech, William referred to his new bride as his "rock." Awww!
6. His late mother, Diana, Princess of Wales, gave him the nickname "Wombat."
5. Speaking of his lovely mother, William honored her memory by giving Kate her blue oval sapphire and diamond engagement ring last fall. William told BBC News that it was his "way of keeping her close" to all the festivities.
4. And when planning their April 29 nuptials, the hymn, "Guide Me, O Thou Great Redeemer," which was sung during Diana's 1997 funeral, was included in Wills and Kate's ceremony.
3. William and his bride did not want any wedding gifts. Instead, they asked family, friends, and colleagues to make a donation to one of the several charities listed via The Prince William & Miss Catherine Middleton Charitable Gift Fund.
2. In addition to overseeing The Foundation of Prince William and Prince Harry with his brother, William is a patron of several charities, including Tusk Trust and Centrepoint, the latter which was close to his mother's heart.
1. We love Prince William because he seems like an incredibly gracious and genuine guy. Watching him grow into the man he's become, as well as pledge his love to the former Catherine Middleton in April has been quite something. We wish him the very best as he celebrates his 29th birthday.
Read More
Filed Under: