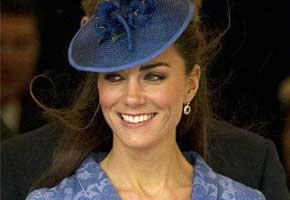 We know that The Duchess of Cambridge has impeccable taste when it comes to fashion, but it sounds like Kate may have a little flair for home decorating.
According to The Daily Mirror, Kate recently purchased some Kelly Hoppen-designed sprays and candles for her and her Duke's new four-bedroom cottage, in which they are slated to settle into upon their return from North America in mid-July. A collection featuring "lavender, sandalwood and moss-based" scents reportedly totaled $1,458 (£900).
"Kate had little say in her marital home," said a friend. "But the only time she's put her foot down was when it came to interior design."
The source continued: "Kate has a keen eye for contemporary, effortlessly cool styling and was adamant she and William would make their home feel like a home – not a formal residence. Whereas William is used to the smell and the feel of the palace, Kate is used to a more modern, relaxed environment. She felt it had an overriding musty, damp smell, and ordered a six-month supply of her favorite products to override this. She's also thrown pillows around to make it look more minimalist-chic and less fuddy-duddy. William was happy to go with the flow."
In other royal-related news:
• You can be sure that William and Kate will be dining on the finest American foods during their Los Angeles visit in July. Helping out with the ultra-tasty menu on July 8, when the royal couple attends a charity polo match at the Santa Barbara Polo Club, will be Food Network star Giada De Laurentiis. People reports that the toothy celebrity chef will be cooking up pea pesto crostini, a California chopped salad with shrimp and assorted veggies, and chicken Milanese.
• While his sense of humor has landed him in some hot water over the years, Prince Harry was snapped throwing up his own "gangsta gun pose," after a recent polo match in Gloucestershire. He was just messin' around with his cousin Zara Phillips' fiancée, Mike Tindall. Such a card, that Harry.
• Princess Diana's younger brother, Charles Spencer, took his third trip down the aisle on Saturday (June 18). He and Canadian-born philanthropist Karen Gordon were wed in a private ceremony at their Althorp estate.
• Queen Elizabeth II has apparently asked Duchess Catherine's parents, Michael and Carole Middleton, to stay at her at Balmoral Castle for an extended holiday "later this year." While a Buckingham Palace representative remained mum on the details, a courtier told The Daily Telegraph: "The Queen has got on well with the Middletons and is keen to help ensure that they feel welcome at royal events. She would be pleased if they could join her at Balmoral for a weekend."
• Wait a second! We thought Pippa Middleton was the new princess of singledom? The Daily Mail says the royal bridesmaid — who competed in Scotland's Highland Cross race last weekend — is still with her dashing banker beau, Alex Loudon.
Read More
Filed Under: