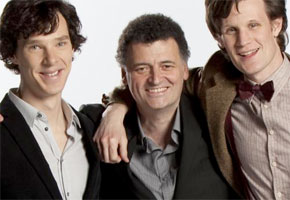 We're all fans of quality British TV, right? We like a bit of Doctor Who, we like a bit of Sherlock, and we realise that making shows of that kind of quality is incredibly hard work.
So it can't just be me that was wondering about the pressure of being the Executive Producer on both of those programmes, and whether the job of getting one of them flying has some kind of effect on the other. It's a question that only Steven Moffat can answer.
Fortunately, he has.
We start with a speech at the recent Church and Media Conference, where BBC One controller Danny Cohen was discussing the fact that Doctor Who will not run for a full series in 2012. Instead, the 14 episodes that the BBC has commissioned will be spread out into 2013.
BBC News reports that he said Steven "needs enough time to get [Sherlock] done and then start work on the next series of Doctor Who. So there will be [Doctor Who] episodes, but not as many."
And apparently the reason for this is that Steven has needs. Real human needs: "There's only so many hours a day he can be awake. The man has to sleep and eat, and he's got a family.
"Steven Moffat is the creative driving force behind Doctor Who. He also, rather magically at the same time, created and got to air Sherlock. So we have to get that balance right."
Which, actually sounds fair enough, on the face of it. And it possibly would be, except that, as far as Steven is concerned, it's not true.
Taking to Twitter to make his case, Steven said: "The scheduling of Dr Who has got NOTHING to do with Sherlock."
He explained that Danny's comments were made largely in jest, as a way of asking people not to expect miracles on a weekly basis, rather than a worry that production on either show would suffer because of the other.
And, ending with a zinger, he said: "On the plus side THE BBC SPELLED MY NAME RIGHT!!!!"
Would you rather have more Doctor Who, if it meant no Sherlock? Or vice versa? Tell us here.
Read More
Filed Under: