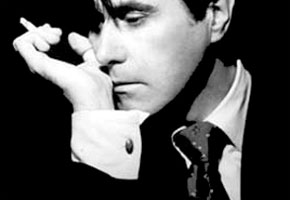 The British Gentleman Singer is a unique beast. Part peacock, part librarian, he exists in a strange world where being the beefiest, brawniest man in the room won't necessarily get you all the girls. What you need is wit, sensitivity, good articulation and a tingling sense that it may not be solely the girls that you're interested in.
So, in tribute to Bryan Ferry getting his CBE over the weekend, here are five of the best.
1: Ray Davies –The Kinks
It's not simply a matter of taking those rounded American rock 'n' roll words and putting the awkward consonants back. The British Gentleman Singer also displays a passion for things that are not just girls and raising hell. He often seeks to celebrate those things that might be considered too mundane to mention, such as the sunset over Waterloo Bridge, a village green, or the joy of gardening.  In doing so, he creates a mythical world out of the everyday world, and being British, some melancholy feeling of good times having passed gets carried across with it. Ray Davies may not have invented this working method, but hardly anyone has done it better.
2: David Bowie
When people seek to criticise Bowie, it's often because he is said to put on a persona based on the people he admires — Iggy Pop, Lou Reed — rather than just being himself. Which, apart from fundamentally misunderstanding how Iggy Pop and Jim Osterberg can co-exist within the same human frame, is attacking him where he is strongest. David Jones is an articulate, clever, spindly kid from the London suburbs. David Bowie is a glowing, androgynous alien with astonishing powers of perception and creation. It might just be a theatrical construct, but that doesn't make it any less powerful.
3: Neil Tennant  – Pet Shop Boys
Not just the soft-voiced, articulate singer in a synthpop duo, but an arch pop theoretician, and therefore someone who knows not only what he is doing, but how he is doing it, and why.  One of Neil's great theories about the properness of pop singing lies in aligning the syllable stresses in the lyric with the musical stresses in the melody. Do it wrong, and you're belting out "A deSIGN, FORE-hore life" along with the Manic Street Preachers. Do it right, and you're a regular Noel Coward.
4: Morrissey
One of the defining characteristics of the British Gentleman Singer is their rampant, and yet repressed sexuality. Lust becomes an almost pure state in which the chase is always better than the kill and the kills come infrequently. So for most of Morrissey's working life, he has written songs about the essential despair of not getting any: always from the perspective of a randy wallflower who would like nothing more than a red-blooded sheet-tearing week of unspeakable vulgarity. Sadly he has to make do with the complete works of Oscar Wilde and a nice cup of tea. Small wonder that this points toward a state of being where wit outshines grit.
5: Jarvis Cocker
Jarvis has all of the same problems as Morrissey, but rather than elevating them to the status of a Greek tragedy, tends to opt for a bedroom farce instead. He's the speccy geek who can be found hiding in an elder sister's wardrobe while she makes out with her boyfriend on the bed. He's the guy who tries to correct his girlfriend's mistaken impression of the lower classes — partly by pointing out with some horror that, even though he may be one of them, he is not like them — rather than just going with the flow and taking her off to bed. Good hands too, very expressive.
Who would you add to this list? Tell us here.
Read More
Filed Under: