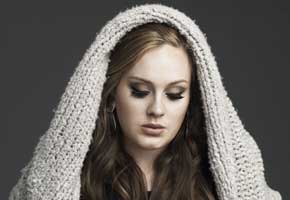 Everyone has their vice: Drink, running, chocolate, collecting endless amounts of vinyl… the list goes on. As for Adele, well she enjoys her regular ciggy breaks. And she's not giving them up for anyone or anything. Not even her marvelous, god-given voice.
In the July 2011 issue of British Glamour, the Evening Standard reveals that the English songstress comes clean about her not so healthy habit. While she gave a smoking-free life a chance, in the end the benefits weren't enough for Adele. And that's putting it lightly.
"I gave up smoking for two months," she said. "It was f***ing grim. I had laryngitis about a week before the album came out and it was so frightening. I stopped smoking, drinking, eating or drinking citrus, spicy foods and caffeine. It was so f***ing boring…"
She continued: "When my album went to number one [in the UK] and in America, I just sat in my room and watched telly because I couldn't go out and talk to anyone! My voice was better when I wasn't smoking. Within a week I noticed it had changed, but I'd rather my voice be a bit s**t so I can have a f***ing laugh."
Uh oh, Adele. I doubt some of your faithful American fans are laughing after you just
nixed the last nine dates of your sold-out North American tour. Laryngitis, mhmm.
Read More
Filed Under: