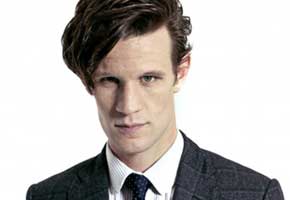 While The Doctor relies on the TARDIS's many trusty gadgets to get him the information he needs, Doctor Who's Matt Smith sometimes prefers to get it the old-fashioned way.
In an engaging interview with Adweek, the 28-year-old BAFTA-nominated actor reveals that while he does keep his iPhone close and enjoys tinkering around with a few apps (the Hipstamatic camera app is a favorite), reading the newspaper gets his mornings off to a good start.
He says: "I read The Times (U.K.). I start at the back with the football, and then I work forward."
Before hitting the pillow each night, Smith confesses to perusing the Internet for the latest footy (soccer here in the U.S.) scores. He does get in some reading too, calling the first two novels in Stieg Larsson's celebrated Millennium series "brilliant." And when he's not keeping an eye on the Who-niverse, he also sneaks in some quality TV time. Sports, of course, is always on the docket.
"I always watch the sports news, a lot of Arrested Development—that's my favorites how at the moment—a lot of Family Guy, and a lot of films. I just watched The Kids Are All Right and Inglorious Basterds for the second time. Sometimes if I'm in the car, I'll use the iPad, but I try to watch on a TV as much as possible."
Wow, he sounds just like us, doesn't he?
For more Matt, tune in to Doctor Who's mid-season finale "A Good Man Goes to War" this Saturday (June 11) at 9 pm ET on BBC America.
Read More
Filed Under: