After yesterday's array of showbiz behemoths who arrived on UK shores to a less-than-rapturous reception, here are five American acts who have done better over here than they have over there. Prophets without honour in their own homeland, you might say (but don't say it too close to David Hasselhoff, the guy's arrogant enough already).
1: Kings Of Leon
Oh sure, they may be making inroads into US rock culture now, but we've been raving about this lot for nearly 10 years. Granted, some of that excitement was based around the whiff of otherness: three easy-on-the-eye Tennessee brothers and their beefy cousin forming a scratchy, Creedence-type rock band could be an everyday occurence in your actual Tennessee, it's startlingly unusual in Wolverhampton. But still, they were cracking right from the get-go, and some of you missed it. Look at this:
2: A Lot Of Guys Called David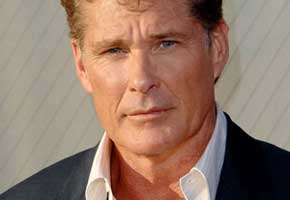 There's an astonishing collection of Davids that seem to have been picked up and embraced by the Brits, long after their showbiz lives have quietened down in other places. David Soul (appears in a lot of UK dramas like Holby City), David Gest (did I'm A Celebrity… teased all the camp-mates rotten, exited a national hero), David Schwimmer (fond of Simon Pegg, OK, that one's thin).
The ruler of them all, King David, if you will, is of course the Hoff: a man who seems extraordinarily good at exciting the passions of individual nations, one at a time. How we laughed at him when he had a big singing career in Germany and was invited to perform at the tearing down of the Berlin Wall. Then he started appearing on UK chat shows, then radio shows, and now he's a judge on Britain's Got Talent. The guy's becoming proper showbiz royalty over here, and for what? Knight Rider and Baywatch? Britain's a weird place.
3: Fun Lovin' Criminals
Back in the late '90s, these three New York smooth-talkers were quite the talk of the town. It was a similar situation to the Kings of Leon, in that what made them relatively commonplace in their home town — blues-infused hip hop songs about Goodfellas-style gangsters, basically — is what enthralled the British audiences. And they never really made it in the same way in the US. And since the band split, we've poached the singer Huey to present radio shows on BBC 6 Music, which just keeps that love affair with American culture ticking over nicely.
4: Mr T
Hands up who thought the twin uppercuts of The A Team being cancelled and rappers taking BA Baracus's bad attitude and adding actual swear words would have long since done for Mr T's career? Well aren't you a bunch of jive-ass suckers? In fact, I pity you, fools. Far from winding up geniunely chippy and bitter, like Gary Coleman, Mr T managed to turn his unique presence (essentially a grumpy man wearing a metal bib) into cash money. Look at this advert for Snickers.
And now he has his own show — World's Craziest Fools — on BBC Three, a channel principally aimed at people who were not born when The A Team was on the telly. I've no idea how they got him over here, what with that airplane phobia of his. I expect someone slipped a sedative in his milk.
5: Kelly Rowland
Technically the Brits can't really take credit for the continuing presence of Kelly Rowland in a recording studio. We all have David Guetta to thank for that, and he's French. Having said that, his insatiable need to hoover up R&B singers and rappers for his dance creations has seen Kelly's career blossom in the UK, in a way that I'm told is not matched over there, so I'm claiming this as a win. We also had a crack at rehabilitating Michelle Williams, when she appeared on Strictly Come Dancing, but (and this was a big surprise to anyone who'd ever seen Destiny's Child strut their stuff) she wasn't a very good dancer. No doubt that when/if Beyoncé's bubble bursts we'll be there to pick up her pieces too. We're nice like that.
http://www.youtube.com/watch?v=NMIfgzeIs4k
Coming Soon: Five British things Americans don't understand.
Any more for any more? Tell us here.
Read More
Filed Under: