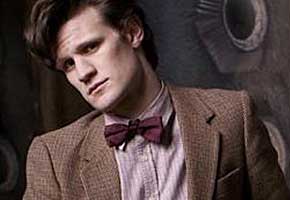 So, let's be honest, when we ran the story yesterday about Matt Smith going to LA to look for movie work. who was worried? C'mon, a show of hands? That's what I thought.
Well the good news is that Matt is NOT leaving Doctor Who, not for the time being at least. The BBC has commissioned 14 new episodes of the show — Matt's third season. There will be a 2011 Christmas special, and then a 13-episode series at some point in the new year.
BBC1's head of communications, Sam Hodges, made the announcement on his Twitter feed, saying: "Fourteen new episodes have been commissioned with Matt Smith as The Doctor."
And Steven Moffat is on board too, telling his followers: "14 eps + Matt DEFINITELY. I've got a plan and I'm NOT TELLING YOU WHAT IT IS. Now hush or River shoots you with her Spoiler Gun."
Sigh of relief all round? Let it all out here.
Read More
Filed Under: