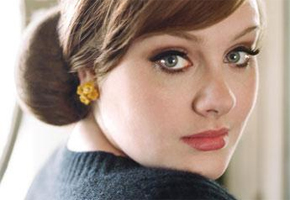 While she may have poured her heart out about a failed relationship on her latest No. 1 smash, 21, Adele hasn't given up on dating. In fact, she'd very much like to have a little flirty chitchat with Prince Harry.
Digital Spy reports that the English chart-topping singer reveals her crush in the July 2011 issue of British Glamour.
She says: "I'm after Prince Harry. I know I said I wouldn't go out with a ginger, but it's Prince Harry! I'd be a real duchess then. I'd love a night out with him, he seems like a right laugh."
Duchess Adele has a nice ring to it, doesn't it? But Adele, how can you not be a ginger fan? There are loads of redhead lookers like Damian Lewis and Rupert Grint, just to name a couple.
The 23-year-old Adele, who is currently unattached, also says that going out with someone famous can be a bit of a pain. "I've been on a few dates with celebrities but I don't like it. You go out and everyone looks at you both. I'm not going to say who. We go to really established places that know how to keep their f**king mouths shut. But then, everyone wants to f**k a celebrity so I wouldn't trust them."
So what is Adele looking for in a potential mate? The girl explains that while she's "never had a type," someone a little older suits her. But he can't be 50. And he most certainly can't be as young as the Biebs.
"Not younger than me. I'm pretty young so it would be like f**king Justin Bieber! Any color. Any shape. But they've got to be funny."
Hey Harry! You're just a few years older and you're a bit of a jokester… why don't ya give Adele a call?
Read More
Filed Under: