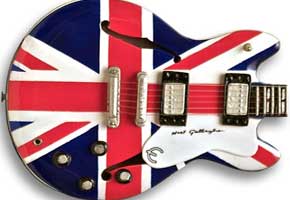 Before we start: I just wanted to say that yes, there have been far more than five astonishing British guitarists in the history of rock 'n' roll. And we could argue all day about who they are, and whether Jimi Hendrix could beat them in a shred-off.
Let's just use these five as a launchpad to that argument, shall we? In no particular order…
1: Richard Thompson
For a lot of musicians, it is enough to learn an instrument well enough to express yourself. All of the technique you have picked up along the way has lead you the point where you can play quickly without wondering what will happen when you put that fingertip on this string now. Richard Thompson is not that kind of guitarist. His repertoire includes your standard blues and rock, rockabilly and country licks, but also folk reels and jigs, and a sharp ear for those vinegary notes which almost don't fit, but also very much do. From his early days in Fairport Convention to his imperious solo career, he is dexterous beyond measure and as tasteful as high tea at the Ritz.
http://www.youtube.com/watch?v=GJKnk09YuQU
2: Peter Green
He may have made his name as a blues player, he may have endured desperate circumstances which would qualify him to have the actual blues forever more, and he may continue to play the blues on tour with his Splinter Group, but it's Peter Green's dexterous work as a shamanic guitarist within his own compositions that really dazzles. Here's a man so gifted that he actually considers the first part of Fleetwood Mac's "Oh Well" to be just a silly preamble for the long, scary, medieval second act. A man who can come up with a song like "Albatross," which despite being a staple of AOR radio, still sounds unearthly to this day. Here's a man who brought in TWO other lead guitarists into his group, and still found space to shine. And yes, he's really good at playing the blues too.
3: Pete Townshend
When your bass player has seized every frequency from the lowest to the middliest, and insists on playing melodic and rhythmic lead bass over the top of everything you write; and when your drummer attempts to hit all of the kit at once in a never-ending roll, only getting out of the way (sometimes) for the singer to scream, your role as guitarist is to drive everything along. You're the ringmaster, whipping the lumbering elephants into a dazzling display of daring and delight, and all the while jumping about like your electric shoes are on the fritz. Small wonder you're about blow your own eardrums out in the process.
4: Johnny Marr
Nobody plays the guitar like Johnny Marr does. Nobody layers up those waves of chiming, tumbling guitars into a cascading flow of sparkle and daring in quite the same way. It's like a different language for the instrument. And it's not like he's just a studio axe-hero who records his ideas one string at a time. Any live recording of the Smiths will tell you this is a guy with more fingers than the average, and four extra plectrums on his strumming hand. All of which would just amount to a widdly-widdly nightmare had he not also been blessed with an aching sense of melody.
5: Graham Coxon
"WHAT? No CLAPTON/BECK/FRIPP/RONSON/RICHARDS/MAY/HIM OUT OF MUSE?" I hear you bellow, "and you let this kid Coxon in your list? Why I oughtta…" and then I'm imagining you're Yosemite Sam and I'm Bugs Bunny. The fact of the matter is, Graham Coxon has the fluidity of Peter Green, the rhythmic cough of Pete Townshend, the inventive textural suss of Johnny Marr AND he can play atonal scree that resolves into astonishing beauty, like Richard Thompson. And he has had to find a space for his guitar to exist around rampaging oompah bands, Brechtian waltzes and camp disco ditties, such are the songs of Blur. He's not only gifted, he's dogged with it. He's the archetypal British guitar hero of nowadays, the perennial all-rounder.
Who's your British guitar hero? Tell us here.
Read More
Filed Under: