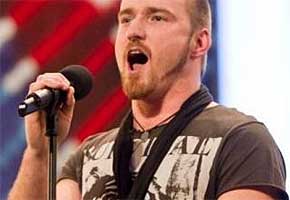 If there's one expression which should strike fear into the hearts of anyone looking to enter a reality TV talent contest, it's "bookies favorite." Because they never win. Susan Boyle? Didn't win. JLS? Didn't win. Gareth Gates? Didn't win. Leona Lewis? OK, so it's not foolproof, but still, this year's Britain's Got Talent final did not disappoint.
The smart money was on little Ronan Parks, who is 12, has Justin Bieber hair, and now has a £1 million contract with Syco. People just LOVE a freakishly talented kid, don't they?
But the smart money wasn't smart enough, because the night belonged to Jai McDowall, who's a kind of goatee-bearded Scottish squaddy version of Josh Groban. His winning performance (of Josh's song "To Where You Are") is here, if you want to see what all the fuss is about.
What's interesting is that Jai already auditioned for last year's X Factor, and didn't get through, forcing a change of musical direction on his part.
He told the Sun: "I was doing a different style then – more pop and country-ish. In the end the judges didn't think I was right. The style of singing didn't really show off my full potential so that's why they didn't think I was suitable for a pop singing contest.
"It gave me a taste and made me realize I really want to do this. I was either going to go back and try X Factor again or give this a shot. I love singing show songs so I thought I'd give that a try for this audition. I think it helped that opera is a very emotional type of music."
And of course, now he's in SuBo territory, surely a duet is in the offing?
"I'd love to do a duet with Susan Boyle. She's such a nice person and she's a Scotswoman so how amazing would that be?"
In other news, Simon Cowell has issued a statement via his publicist that he is moving heaven and earth to get Cheryl Cole back on the US version of The X Factor. Yes, we're STILL on this.
He said: "I've made it clear from the start, I've made it clear to everybody at Fox and Fremantle, the people involved, that my choice would be to have Cheryl Cole on the show."
There are now rumors that she will rejoin the show later this week, prompting lots of people (hello!) to decry the whole "Cheryl Is Sacked" situation as nothing more than a publicity stunt.
I know, if Simon Cowell — SIMON COWELL THOUGH! — starts manipulating the press and public in order to drum up support for one of his TV shows, who can you trust?
Do we like Jai McDowall? Tell us here.
Read More
Filed Under: