Professor X is an Oxford man. That's just one of the many nifty nuggets one learns watching X-Men: First Class, the wham-bam movie reboot of the Marvel comic book series about mutant superheroes.
A high decibel action-adventure film aimed at summer moviegoers, First Class, which opens today, is an origins story. It goes back to the beginning, showing us how the X-Men came into being, concentrating in particular on how mutant superheroes Charles Xavier (played by Scottish-born James McAvoy) and Erik Lehnsherr (Irish-raised Michael Fassbender) teamed up and then eventually came to an ideological parting of the ways.
As X-Men viewers doubtless already know, Xavier eventually becomes Professor X, the wheelchair-riding savant who believes mutants and humans can co-exist, and Lehnsherr becomes Magneto, the helmet-wearing baddie who believes in mutant superiority and separatism. (In previous X-Men movies, beginning in 2000, Brits Patrick Stewart and Ian McKellen played, respectively, Prof. X and Magneto.)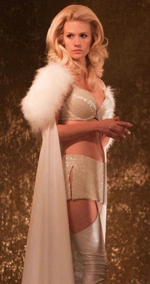 The movie is set in the early 1960s and there's a Mad Men vibe–lots of boxy suits for men and groovy women's clothes–right down to the casting of January Jones as the va-va-voom mutant sidekick to First Class' chief baddie, Sebastian Shaw (Kevin Bacon). He is a power-hungry mutant who's out to manipulate those Cold War enemies, the U.S. and the U.S.S.R., into a war of mutual annihilation.
Xavier and Lehnsherr set out to stop Shaw, recruiting a squad of young mutants to help them (including Skins' Nicholas Hoult, playing a geeky scientist whose feet resemble those of a primate). The movie jumps around the globe, with early scenes set at Oxford University as Xavier graduates and chats up a comely co-ed (The Tudors' Annabelle Wallis) at the local pub. But soon the fledgling X-Men are training at a secret C.I.A. facility, and then at Xavier's family home in Westchester, N.Y. Next, they're off to stop the Cuban missile crisis, which was less the work, the movie would have us believe, of Soviet premier Nikita Khrushchev than of the nefarious Shaw.
As directed by Brit Matthew Vaughn (Layer Cake and Kick-Ass), First Class is fanboy fun and serves up plenty of big action scenes, but it all feels a wee bit processed and familiar. That said, the presences of McAvoy and Fassbender go a long way toward keeping a viewer engaged. McAvoy, he of the dreamy baby blues, shows the intelligence and decency at Xavier's core, while Fassbender is all raw emotion and intensity as Lehnsherr, not to mention as sexy when suffering as he was in Jane Eyre.
Will there be a Second Class if First Class rakes in bucks at the box office? Count on it. Let's just hope, though, that no one makes McAvoy shave his hair off or Fassbender wear that silly helmet the whole time.
————-
Will you be seeing X-Men: First Class? For McAvoy or for Fassbender?
————-
Read More
Filed Under: