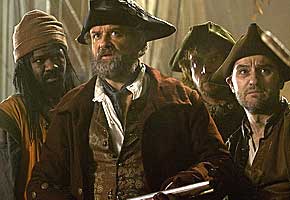 Downton Abbey star Hugh Bonneville will be making his debut appearance on Doctor Who next week, playing a pirate captain called John Avery, and battling against a demonic mermaid (with the face of Lily Cole). But when asked by What's On TV whether he'd be snuggling down with his family to watch it, he revealed that the good Doctor's adventures have not always gone down well in his house.
He said: "Slightly sore topic. My nine-year-old got so freaked out about Bill Paterson's demise in the Daleks episode last year, he had some sleepless nights."
"So we've had a slight embargo on Doctor Who at our house, which was annoying for me because I'd got them all recorded and then I had to wipe them all! So I'm going to get the box set, and we'll watch them together leading up to this episode."
Apparently he'd have been better off taking another nautical role: "It's funny, because he's used to me working but he's new to the whole Doctor Who thing, so to him it's just another job. Had I said I was going to be in Spongebob Squarepants, then he'd have been really thrilled."
Quite right too. LOADS of actors get to be in Doctor Who, but how many have appeared in Bikini Bottom?
Which Doctor Who monster has caused the most disruption in your house? Tell us here.
Read More
Filed Under: