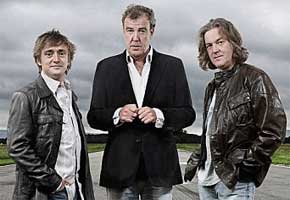 It's got to be a fairly worrying prospect, if you're the manufacturer of a car, and you've just sent it over to Top Gear for one of their special features. Will they fire it out of a cannon? Will they drive it up a slag heap in a Welsh mining town? Or maybe across a fiery pit?
In short, will it come back with everything still intact, including its reputation?
Well, MotorTorque website went to find out, asking Nissan UK's Managing Director Paul Willcox how he feels now that he has sent Jeremy Clarkson and co. an all-electric Nissan Leaf, to be compared with a similarly gasoline-free Peugeot i0n.
Especially since news stories are starting to circulate that it has been seen being pushed by a group of students in Lincoln after the battery ran out, and worse, towed by a rope.
Paul admitted that handing their product over constituted "a double-edged sword", before explaining: "You're at the mercy of the script writers and the presenters as to how it will be represented."
He said: "It's hard for me to comment on exactly what's going on because, at the moment, we just don't know. I'll have to reserve judgment until after we've seen the edited program."
Not that Jeremy, James May and Richard Hammond are any better at making electric cars themselves. Look:
The new series of Top Gear begins in the fall.
Would you let Top Gear borrow your car? Tell us here.
Read More
Filed Under: