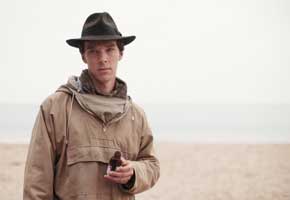 In Third Star, Benedict Cumberbatch portrays James, a cancer-stricken guy who's looking to celebrate his limited time left with his three best mates. Together, the four travel to Barafundle Bay in West Wales for some quality outdoor fun.
Directed by BAFTA winner Hattie Dalton (The Banker, One of Those Days), this British comedy drama includes JJ Feild, Tom Burke and Adam Robertson. Downton Abbey's Hugh Bonneville, who will make his Doctor Who debut in this Saturday's The Curse of the Black Spot episode (check out the trailer here), also stars.
Third Star opens May 20 in the UK. Its stateside premiere follows in June at the Seattle International Film Festival.
Read More
Filed Under: