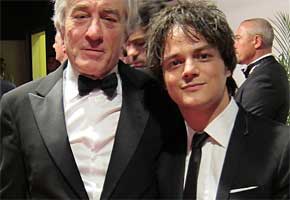 Surprise parties are always a bit strange aren't they? They are, of course, a most delightful thing in the main; you're expecting events to unfold in a certain way and then all of a sudden it becomes apparent that plans have been made behind your back, plans that you can only publicly approve of, because that is only good manners, even if the thing that is happening is something for which you are not really in the mood…
This maelstrom of emotion is the most probable cause for Robert de Niro looking slightly uncomfortable throughout a surprise serenade made to him from British jazz sensation Jamie Cullum at the opening ceremony of this year's Cannes Film Festival.
Robert is this year's chairman of the jury, and as such, was honoured with a special performance from Jamie at the Palais des Festival, consisting of not one, but two odes to his home town, namely "New York, New York" and "Empire State of Mind."
So groovy was this latter choice that it caused a spontaneous outbreak of dancing among some of the on-stage guests, including Uma Thurman.
And here it is, complete with a very happy looking Robert de Niro:
When asked later why he'd agreed to serenade this year's chairman in this way, Jamie said "de Niro's a film legend who defines what cinema is all about. It's amazing to have the opportunity to honour him."
I'm sure he loved it really. He's definitely the 'smiling on the inside' type.
A fitting tribute to Me de Niro and the Big Apple, or a bit of a mess? Tell us here.
Read More
Filed Under: