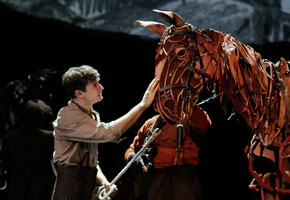 War Horse, one of Britain's most successful plays, has landed on Broadway to a rapturous reception and overwhelmingly positive reviews. Today, the show has been nominated for five Tony awards, including Best Play. New York Post theater columnist Michael Riedel predicts that War Horse will win the top award at the ceremony on June 12th.
The all-powerful New York Times theater critic Ben Brantley wrote that the production has "theatrical magic" — but he did go on to point out that it's "steeped in boilerplate sentimentality."
The play is the story of the relationship between a boy and his horse and how they're plunged into the horrors of World War I. It's told through spectacular life-size horse puppets that interact with the cast.
The production has been partly defined by the artistry of its puppets, each operated by three actors and put together by the Handspring Puppet Company.
In Britain, War Horse has now been seen by more than a million people — and that includes the Queen and a host of big names from Dame Helen Mirren to Steven Spielberg.
A film adaptation directed by Spielberg, starring Sherlock's Benedict Cumberbatch, will arrive in US cinemas at year's end, and many are already predicting that it will be a big Oscar contender.
The Broadway production is the first test of the play overseas.
For the New York staging a British creative team from London has been working with an all-American cast. Brooklynite Seth Numrich has the leading role in the Broadway play. He told me that getting the very specific West Country accent right involved a lot of practice.
But by all accounts the efforts of the cast — and everyone else involved in the production — have paid off handsomely.

Tom Brook's reports on cinema can be seen every Tuesday and Thursday morning on BBC America.
Read More
Filed Under: