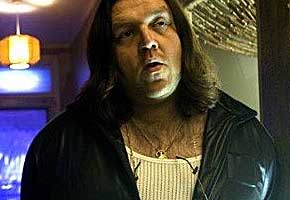 Fans of films such as Shaun of the Dead, Hot Fuzz, and Paul will be pleased to know that Nick Frost has made another UK-based sci-fi comedy-drama, only this time, his film buddy Simon Pegg is nowhere to be seen.
Attack The Block is the debut movie from Joe Cornish, who UK comedy fans will know as one half of the broadcasting duo Adam and Joe, who currently have an astonishing radio show on BBC 6 Music.
It's the story of an alien invasion that happens in a very specific location, namely a tower block in London. There are no nukes, no army comes to save the day, it's just a bunch of scrappy teen thugs, who happen to find a little alien while out on a mugging spree.
They attack the alien, the alien's much larger friends attack them, and suddenly there's an intergalactic turf war going on, much to the confusion of the tower block's (slightly strange) adult population.
And of course, if you're looking to cast someone a bit strange, but still utterly charming, Nick's your man. He plays a hapless drug dealer on the estate, called Ron.
Here's a taster video from the website Film Shaft, where Nick explains his role in proceedings:
What do you think? Pretty good, eh? Tell us here.
Read More
Filed Under: