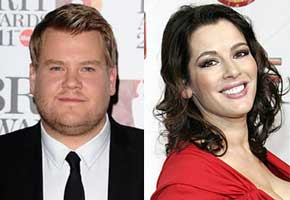 As the saying goes, beauty is in the eye of the beholder. And everyone has their own personal tastes and types, especially when it comes to celebrities. So think back to those days when you were an impressionable young adult… who did you fancy and why?
In a recent poll conducted by the British website studentbeans.com, the who's who list of hotties didn't exactly feature the expected lot. And the few thousand students who voted stayed true to their native land.
Topping the list of females are Emma Watson, Girls Aloud singer/X Factor judge Cheryl Cole, voluptuous British cook Nigella Lawson, Carol Vorderman of Countdown fame, and BBC Radio 1 personality Fearne Cotton. And rounding out the males are comedian Russell Howard, Simon Cowell, Gavin & Stacey's James Corden, Watson's Harry Potter co-star Rupert Grint, and Russell Brand. How about that for an eclectic mix?
"When you think of the very top of the celebrity pile, your mind tends to wander abroad, especially to the USA," Studentbeans.com editor Oliver Brann said in a statement. "These results reveal that it's not Hollywood glamour but our very own British talent that's doing it for UK students, even if they might not be admitting it to their mates."
"It's also notable that humor is a significant element in the secret celebrity crush, with three funny men near the top. There is also a strong cougar contingent in there too: with Nigella Lawson and Carol Vorderman there are two females born in 1960 still doing it for our students."
What do you think about studentbeans.com's poll results? Tell us here.
Read More
Filed Under: