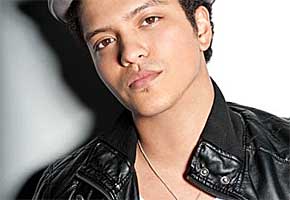 Wait just a cotton pickin' minute here! Aren't we supposed to be in this together? Aren't the British and Americans the joint rulers of all things popular and musical? Haven't we had some laughs together along the way? So why now, after nearly 50 years of sharing the musical spoils, have you decided to wipe us from the face of our own charts? Why?
Didn't we give you our very best? Those Beatles were alright, weren't they? The Rolling Stones had a couple of good tunes here and there. Heck, even more recent UK exports like that Radiohead or Keane, surely these were extravagent gifts indeed?
And yet, looking over our current singles chart, I can see nothing but scenes of devastation. A brutal crushing of our national musical identity has taken place. Of all of the songs in our Top 10, only one is by a UK artist — Jessie J's "Nobody's Perfect." The rest are all imports from your fair shores.
We have Bruno Mars at No.1 with "The Lazy Song," and he's knocked LMFAO down to No.2, which is some kind of consolation, I suppose.
Here's Bruno performing his chart-topper live at BBC Radio 1's Big Weekend event:
http://www.youtube.com/watch?v=vK_OxNlw5zI
David Guetta (who is neither British or American) and his special guests Flo Rida and Nicki Minaj (who are) are at No.3, with Pitbull at No.4 and Chris Brown at No.5.
We have a hot new entry at No.6 from Lady Gaga, who celebrated this fact by appearing at Big Weekend wearing leather hotpants with a crucifix on the front. Then there's Jennifer Lopez, Snoop Dogg and finally Aloe Blacc taking up the next three chart places, before Jessie J steps in at No.10 to wave her solitary union flag. And that's your Top 10, right there.
Things are looking a little better further down the charts, with new entries from Yasmin ("Finish Line" at No.12) and Take That ("Love Love" at No.15) to help keep our spirits up, but we're essentially clutching at straws here.
Luckily, it's not all bad news, as we've sent our agent Adele over to your shores as a kind of pre-emptive payback. Good luck getting her out of your albums chart! We've had her at No.1 for YEARS!
Radio 1 has the full details of this week's chart.
Read More
Filed Under: