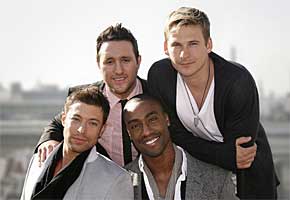 In this week's chart, there's not much going on at the very top. LMFAO are still ruling the roost with their "Party Rock Anthem," and Bruno Mars's "The Lazy Song" is chipping away at their heels at No.2.
But there is a brand new entry at No.3, "Where Them Girls At" comes from the mind of David Guetta, with a little help from his close personal friends Flo Rida and Nicki Minaj. It's this willingness to all pull together when the chips are down which will finally see an end to the 'FAO's chart domination, at some point in the not-too-distant future.
It's a good week to be Pitbull, whose mob-handed collaboration with Ne-Yo, Afrojack & Nayer, "Give Me Everything", has leaped up 13 places to No.12, while his work on Jennifer Lopez's "On The Floor" is still hanging on in there at No.5. Terrific news if you already thought he was getting a little big for his boots. Jennifer also makes an appearance at No.40 with "I'm Into You", this time squired by Lil Wayne.
Meanwhile, Jessie J's "Nobody's Perfect" has managed to sneak into the Top 10, having crept up 8 places to No.9. "Judas" by Lady Gaga is making slow progress up the charts, having taken four weeks to get up to No.20, but she is at least on the way up. Beyonce, on the other hand, has fallen eight places to No.19 after only three weeks on the chart. If girls really do "Run The World," they don't seem too keen on hearing people sing about it.
At No.16 is our great hope for this weekend's Eurovision Song Contest. Blue's "I Can" makes a chart debut which probably reflects the general enthusiasm around the contest this year. We're keen, but we're not THAT keen. Oh sure, it's going to be eye-peelingly amazing, but we'll only see the aftershocks reflected in the chart once the show's over. And by then, it'll be too late to say we were behind the boys all the way.
So let's do it now. Flags at the ready, here's the video:
And that's it, beyond some slighly unorthodox new entries further down the list, both mentioning musical instruments. Dev ft. the Cataracs are keen to explain that they like to hold their "Bass Down Low" at No.33, and that's a hefty two places lower than the improbably-named Alexandra Stan and her "Mr Saxobeat."
Note: The BBC would like to point out that beating a saxophone is not the best way to get a decent tune out of it. Mind you, "Mr Saxoblow" isn't a great name for a pop song.
What's your favourite song at the moment? Tell us here.
Read More
Filed Under: