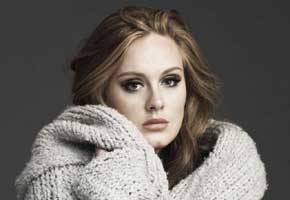 Unless you've been living under a rock for the last few months, you should know by now that the pop world belongs to Adele. Here in the U.S., the London-bred songstress' second LP, 21, has kept her name locked in the top spot on Billboard's album and singles charts for weeks. And now, countless other hit-makers are pining for the Grammy-winning superstar to join them in the studio for their own unique collaboration.
Nicki Minaj, club/dance powerhouse producer David Guetta, and Professor Green all want her. Britney Spears, too. And earlier this week, Tinie Tempah revealed that he and the "Rolling in the Deep" singer are tinkering away at "something amazing."
Since issuing her 2008 debut, 19, Adele has gone on to sing with a handful of acts like The Raconteurs, Alicia Keys, and India.Arie. But now, I think it's safe to say that the 23-year-old showstopper could really single out her choice of dream duets. Should she need any suggestions (which is very unlikely), here are my Top 5.
• Cee Lo: We watched the "F*** You" singer have a ball with Gwyneth Paltrow at this year's Grammys, and again with Paloma Faith during the Brit Awards. But to me, he and Adele's voluminous vocal talents are more of a match. They'd belt it out like no other.
• Alison Moyet: The Yazoo (a.k.a. Yaz on this side of the pond) singer could be Adele's musical mum. Three decades ago, she fought against the manufactured pop mold with her mammoth-sized, blues-drenched chops, and today, Adele is doing exactly the same (God bless 'em). So yes, get these two gals together for Moyet's "Love Resurrection" or Yaz's "Don't Go," stat!
• Tom Jones: The Welsh crooner is an artist of many genres, and I think Adele has what it takes to follow suit. A brassy R&B ballad for these two.
• Florence and the Machine: Flo thinks she "barks too much" to pull off any kind of collaboration with the "incredible" Adele. I beg to differ.
• Guy Garvey: I don't know what it is, but Elbow's longtime frontman is like the female version of Adele or Adele is the male version of him. Both are remarkable in nailing a song's emotional twists and turns. Should the two ever end up on the same stage, they could easily rip into each other's respective standouts. My particular faves: Elbow's "Grounds for Divorce" and Adele's "Rumour Has It."
Who would you love to see Adele sync up with in song?
Read More
Filed Under: