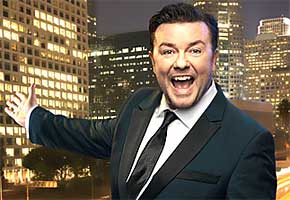 Getting fit can be a downright pain in the behind. Or that's what some of us like to tell ourselves before indulging in some not-so healthy treats: that extra beer (or two) when we shouldn't … or housing an entire pizza after a sloshed night out. But slimming down is actually pretty easy peasy if we give it a good old-fashioned try. Take Ricky Gervais, for example.
Since shedding more than 20 pounds in the last year so, the British comedian has maintained a smokin' svelte figure with regular exercise (imagine that!). While he's not as core as he once was, he's eating plenty of veggies, and enjoying his drink, guilt-free!
"I spend 55 minutes now a day exercising," he told The Metro. "I can still drink and eat but I'm just in bed by 6pm."
Grabbing some shut-eye at 6 pm might be a little tough for us working stiffs, but according to Gervais, it's totally mind over matter.
He said: "It's a psychological thing. If it's under an hour, you don't feel it's taking up a huge amount of your day and you can do other stuff."
Ok, ok… you've sold us, Ricky. Time to hit the elliptical machine!
Read More
Filed Under: