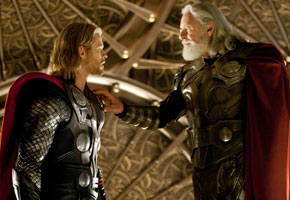 This week's TV schedule is no longer dominated by royal wedding coverage, leaving the airwaves free for wall-to-wall Thor promo before its May 6 U.S. debut. The action film's Brit-heavy cast will be all over the chat shows in the coming days. Check out the latest Tellyvangelist, your handy guide to all that British on U.S. TV. All times in EST and may be subject to change.
Monday, May 2
Conan O'Brien has Paul Bettany and James Blunt to his show tonight. Bettany's promoting Priest, the big new horror adaptation of the Korean comics, which hits theaters May 13. Blunt? He's on the last leg of his North American tour before he jets off to Australia. 11 pm on TBS.
Meanwhile, Craig Ferguson welcomes Matt Lucas. The Little Britain and Come Fly With Me star appears in the comedy Bridesmaids, also out May 13. 12:35 am (May 3) on CBS.
Tuesday, May 3
Tuesday begins our Thor-a-thon, with Anthony Hopkins on Jimmy Kimmel and Idris Elba (star of BBC America's Luther) on Lopez Tonight.
Wednesday, May 4
It's not often that even actor-directors are asked to do the late-night circuit to promote their films. But Kenneth Branagh is going heavy and hard for his big-budget flick Thor, sitting down with Jimmy Kimmel tonight.
Thursday, May 5
Can't get enough Branagh in your diet? He's on Tavis Smiley this evening.
Friday, May 6
Oasis acolytes Brother are the musical guest on tonight's Late Show with David Letterman. Check out the band's minor hit, "Still Here," which wouldn't sound out of place on Definitely, Maybe.
Saturday, May 7
After Doctor Who's intense two-part season opener set in America, we lurch into the 17th century, where we find the TARDIS marooned on a pirate ship. Downton Abbey's Hugh Bonneville guest-stars. The episode airs at 9 pm on BBC America.
Speaking of Doctor Who, David Tennant and Catherine Tate, the Tenth Doctor and Season 4 companion Donna Noble, are guests on the season premiere of The Graham Norton Show, airing 10 pm tonight. The dazzling duo are re-teaming for a West End production of Much Ado About Nothing. Watch a clip of their interview.
Sunday, May 8
Sundance Channel is airing François Ozon's English-language romance Angel, starring Emma's Romola Garai and Jane Eyre's Michael Fassbender.
What are you watching this week?
Read More
Filed Under: