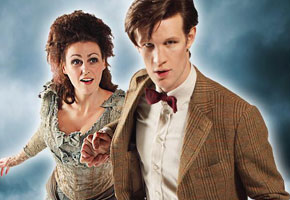 Yes, this is your weekly guide to all things British on U.S. TV, but this time, we're doing things a bit differently. We're separating the wheat from the chaff and narrowing the week's schedule down to five shows you must watch this week. (The No. 1 choice is a bit self-serving, but really, can any TV-loving Anglophile argue with it?)
All times in EST and are subject to change.
5. Def Leppard on The Tonight Show with Jay Leno
Tuesday, May 10 at 11:35 pm, NBC
Almost 35 years into their epic career, the veteran pop metal band are still determined to rock long hair and opened shirts in pursuit of American success. (Their new live album, Mirrorball, is set for North American release on June 7.) They'll find the right, nostalgia-stricken audience when they perform on Tuesday night's Leno.
4. Keira Knightley on Late Night with Jimmy Fallon
Wednesday, May 11 at 12:35 am, NBC
The effervescent Keira Knightley will be all over the place this week promoting her latest romantic drama, Last Night. But we suggest you tune in to her appearance on Jimmy Fallon, which is sure to be filled with ingenious frat-boy mischief.
3. Robert Pattinson and Hugh Laurie on The Graham Norton Show
Saturday, May 14 at 10 pm, BBC America
Robert Pattinson and his Water For Elephants co-star Reese Witherspoon are guests on Graham Norton's couch this week, entertaining us with amusing stories of pachyderm flatulence. Later, Hugh Laurie stops by, does his usual master class in understated wit, and shocks the hell out of the five remaining people who didn't know Dr. House was British.
2. Sarah Ferguson on Oprah
Wednesday, May 11 – check your local listings
Sarah Ferguson, Duchess of York, submits to yet another scolding from Queen Oprah, opening up about the humiliation of not being invited to last month's royal wedding. Her daughters, Princesses Beatrice and Eugenie, are also expected to be featured in today's episode. Of course, this routine chastening is simply promo for Ferguson's reality show, Finding Sarah, set to premiere June 12 on OWN.
1. Doctor Who – "The Doctor's Wife"
Saturday, May 14 at 9 pm, BBC America
This is simply nerdgasmic: novelist Neil Gaiman's Doctor Who episode, talked about and hyped for months, finally airs this Saturday. And apparently, it lives up to all of that advance buzz. io9's Charlie Jane Anders writes that this is THE episode you should use to get your friends hooked on Who: "If someone didn't know anything about Doctor Who, they could pick up with this adventure and get a darkly mystical explanation of the show's main idea. And the main idea of the story is clever enough that you wonder why it hasn't been done before."
What are you watching this week?
Read More
Filed Under: