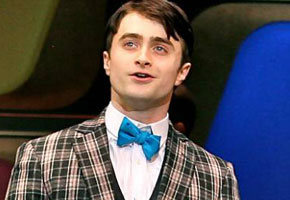 What's British on U.S. television this week? Jeremy Irons's Borgias reaches its final crescendo and assorted Brits hit the chat show lineup. All times in EST and are subject to change.
5. Jessie J on The View
Wednesday, May 18, check your listings, ABC
If Adele has broken the mold of the modern pop star, Jessie J fits snugly inside of it, taking liberally from Gaga, Pink, and Katy Perry. Even if you're less than impressed with her conventionality, she is a charmer. We'll see how she plays with the ladies of The View.
4. The Borgias season finale
Sunday, May 22 at 10 pm, Showtime
The Borgias concludes a well-received season with Pope Alexander (played by Jeremy Irons) utterly isolated and desperate. Irons leads an international cast that includes Sir Derek Jacobi.

3. Doctor Who – "The Rebel Flesh"
Saturday, May 21 at 9 pm, BBC America
Doctor Who's summer hiatus is quickly approaching. The show follows up Neil Gaiman's landmark "The Doctor's Wife" with a two-parter, starting with "The Rebel Flesh." This episode finds our TARDIS trio in a futuristic world populated with clones.
2. Tinie Tempah on The Late Show with David Letterman
Tuesday, May 17 at 11:35 pm, CBS
Tinie's U.S. breakthrough has been a delight in a time when most hip-hop newcomers have been dismal. His hit, "Written in the Stars," sits on the cusp of the U.S. Billboard top 10. Perhaps Tinie's appearance on Letterman will help nudge him into the upper reaches of the chart?
1. Daniel Radcliffe and the Broadway cast of How To Succeed in Business Without Really Trying on Letterman
Thursday, May 19 at 11:35 pm, CBS
Want to see Daniel Radcliffe warble and shuffle across the boards on Broadway, but don't have to good fortune (in every sense of the term) to live in the Big Apple? Tune in to Thursday's Letterman for a performance from the cast of How to Succeed in Business Without Really Trying.
What are you watching this week?
Read More
Filed Under: