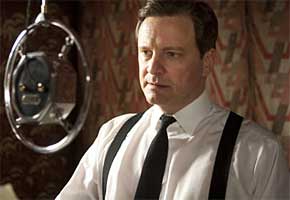 Last night, London's Wembley Arena was host to the National Movie Awards, an event which seeks to reward outstanding achievement in the fields of cinematic art. You could probably have guessed that from the title, right?
Naturally, as it's a British awards ceremony, the Brits did rather well, but what's interesting is that most of the awards given were to clear leaders in their field, and not that far removed from, say, the results of the Oscars.
As you'd expect, The King's Speech did exceptionally well. It won the Best Drama award, and its star Colin Firth picked up not only the Performance Of The Year trophy, but also another Special Recognition award, for his portrayal of George VI having to overcome his stammer, in order to be an effective monarch.
Elsewhere, the Harry Potter franchise received a lot of awards love too, scooping up Best Fantasy for Harry Potter And The Deathly Hallows Part I, against what some commentators are calling "stiff competition," namely Gulliver's Travels, The Chronicles of Narnia: The Voyage of the Dawn Treader, and TRON: Legacy.
The film's sequel, Harry Potter And The Deathly Hallows Part II, was also named the Must See Movie Of the Summer, which is an equivalent award to the Brit Awards' pre-emptive (and self-fulfilling) Critics' Choice trophy. Oh, and Jamie Campbell Bower, who plays Gellert Grindelwald, won the One To Watch award.
Also flying the flag for the Brits were Simon Pegg and Nick Frost, whose alien road movie Paul won Best Comedy, beating Little Fockers, Due Date and Just Go With It.
Best Animation was won by Tangled, and there was a special Screen Icon award for Johnny Depp, who sent a special video message, as he's off filming another Pirates of the Caribbean movie at the moment.
Worthy winners all? Tell us here.
Read More
Filed Under: