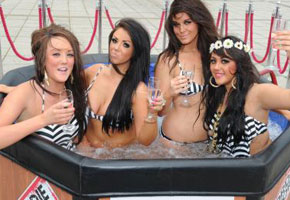 Oh so you thought we got off scot-free when we avoided last weekend's predicted "rapture"? Ho no, my dear. The end of days has arrived, in the form of Geordie Shore, a.k.a. the UK version of MTV's Jersey Shore, which premiered last night in Britain.
Like its American predecessor, Geordie Shore features eight unnaturally orange twentysomethings who drink, shag, and swear a lot. And according to The Hollywood Reporter, the show's a hit with viewers, which only encourages this sort of thing.
Meet the cast below. They seem really intelligent. Nope, the Geordie peeps don't have nicknames, which was half the fun of the original. And apparently, this show has not one, not two, but three Snookis.
Read More
Filed Under: