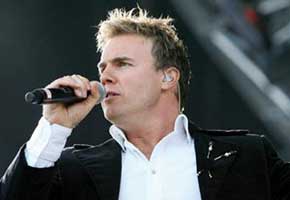 You can't fault Gary Barlow for lovin' the Take That life these days. With Robbie Williams back in the fray, their latest album Progress selling millions of copies, and their sold-out stadium tour of the UK and Europe kicking off at the end of this month, Take That mania is not going away.
So never mind Barlow's questionable remarks made on The Chris Evans Breakfast Show on BBC Radio 2 in January.
Speaking to The Sun, the 40-year-old singer said, "The band is different with Robbie. We work in a different way. What we have now is too much talent in the room."
Barlow added: "When Take That are a four, Mark [Owen] and myself are the leading songwriters. Jay [Jason Orange] joins in on the lyrics and Howard [Donald] starts with the melodies. Now you add Robbie and he and Mark are doing the same job – and I can do what they do too. You have three people writing. It's a jigsaw."
More like a perfect jigsaw, yeah? And it doesn't stop there.
Take That's never-before-heard song "Love Love" has been personally chosen by X-Men: First Class director Matthew Vaughn to appear in the film's closing credits. Matt and Gaz have been longtime mates since Barlow lent "Rule the World" to Vaughn's 2007 fantasy film, Stardust. The tune will be available for download on May 11.
Read More
Filed Under: