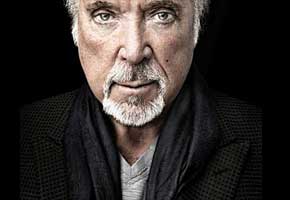 We're starting to get a bit too used to Facebook and Twitter campaigns to get certain songs up to certain positions in the chart. There was one a week or so ago, to get "God Save The Queen" by the Sex Pistols to No.1 as a protest against the Royal Wedding, and no doubt there will be another one this Christmas as the X Factor winner releases their triumphant song.
But we're quite taken with a new campaign to get Tom Jones to re-record his 1968 No.2 hit "Delilah" in honour of Stoke City Football Club — known as the Potters, soccer fans —, who have battled through to the FA cup final on May 14th.
It's a song which is very closely associated with the club. Potters legend says the song was picked after police attempted to prevent fans from singing obscene songs in a local pub back in the '70s. The next song to come on the jukebox was "Delilah", and they all joined in, defiantly. And they've been singing it ever since.
Mind you, if Tom won't oblige, with maybe some amended lyrics about Stoke's ability in the penalty area, well they'll just go ahead and try and get the song to No.1 anyway.
Rabid Stoke fan Shawn Beardmore — 26 years and proud — told BBC News: "It's our anthem. It's the song that every other club associates with Stoke."
And now they're planning a chart invasion, as a way of saying thank you for getting this far in the tournament, as Shawn explained: "We just want to show the lads [players] that we are thinking of them, and we appreciate everything they've done over the last few years."
They might just do it too: "To get in the top 10, we're going to need 15,000 downloads. So if everyone who goes to the final buys it just once, that's 25,000 downloads and I would imagine that would get us Top 10."
Here's an amateur video of the fans giving "Delilah" what for:
Should pop stars re-record their old songs for sports fans or leave them alone? Tell us here.
Read More
Filed Under: