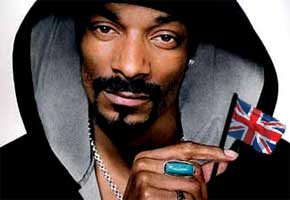 Snoop Dogg is clearly a much nicer man than his gangsta rap origins might suggest, but would it be too fanciful to suggest that it's the civilising effects of good old Blighty which can, in part, take the credit for this?
Well, let's look at the evidence, shall we? For all that he's a California boy, born and bred, he's also best friends with David Beckham — to such an extent that he uses David as a sounding-board for his new tunes — he coaches a soccer team, and has been spotted wearing the uniform of London team Queen's Park Rangers on stage; he wrote a song for William and Kate's wedding ("Sweat", which he claims he changed from its original title "Wet" out of respect) and he's appeared in Doctor Who as one of the more relaxed-looking members of the Ood.
OK that last one was a lie, but he HAS revealed that he reached out the hand of friendship to our very own Amy Winehouse when it looked like she was heading down the path to total self-destruction.
Snoop told BBC Radio 1's Scott Mills that when he bumped into her in a nightclub a couple of years ago, he offered her some help, thinking that a little Snoop/Winehouse musical jam would be just the thing to lift her ailing spirits.
He explained that he'd suggested that she "come to the studio with me and I'll get your spirit back right and get you back in the right mode and the right mentality… It didn't happen but she did get her life back right."
"It was just concern, knowing that if I helped get her in the studio I could get a private moment with her and let her know she's got some real friends."
A very responsible thing to do, right? Mind you, his next thought was more "I'll be there for you" than "Land of Hope and Glory": "When she was down and out I tried to lift her up. When she was going through that little phase I was trying to be a friend."
All he needed to do was suggest she pull herself together, buck up, and remember her stiff upper lip. Never fails!
Do you think Snoop could have saved Amy? Tell us here.
Read More
Filed Under: