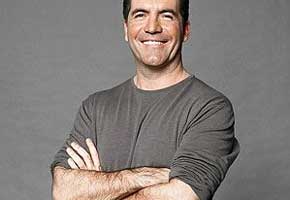 Ever since Simon Cowell revealed he would not be taking part in the opening heats of this year's Britain's Got Talent, people have been predicting the end of the show. The early viewing figures are in a bit of a dip at the moment — the lowest since the show started in 2007 — and clearly any Simon Cowell show is about Simon Cowell far more than it is about the talent of the people performing for him. But as far as the man himself is concerned, everything is going to work out just fine, so long as everyone cheers up a bit.
He told the Sun: "We've got to get out of the habit of being so gloomy. The fact is, people are enjoying it. I think it's fantastic. Ratings peaked last year at 11.8 million and this week it was 11.4 million. If you'd told me a year later we'd be getting these numbers, who says that would be bad news?"
"It's creeping up. It went up week on week. You've just got to keep making good TV. The public aren't stupid. They like the show. I know this is a good show."
Simon will be making his return to the show for the live finals, taking his place alongside Amanda Holden, David Hasselhoff and Michael McIntyre, and he's confident things will be back on track by then.
He continued: "I think the talent is better this year than last year. I'm happy with it and really looking forward to the semi-finals."
And he's been careful, as a late arrival, to get the same experience of each act as the TV audience at home: "I'm going to walk into the live shows on the night and try to judge it fairly. I'm keeping my distance because I think it's only fair. I'm not going to see any rehearsals."
Well it must be nice for the contestants to know that SOMEONE will be watching them perform, mm?
Do you think Simon can afford not to appear in his own shows? Tell us here.
Read More
Filed Under: