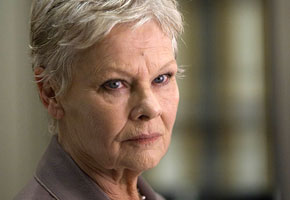 Size – make that length – doesn't matter to Dame Judi Dench. The English actress, 76, shows up for a mere minute, at most, in one of the funniest scenes in The Pirates of the Caribbean: On Stranger Tides, the fourth chapter in the blockbuster series, which opens Friday (May 20).
In her single scene in the movie, Dench plays a pampered 18th century aristocrat whose horse-drawn carriage is invaded by Capt. Jack Sparrow (Johnny Depp). The mischievous pirate vaults into her vehicle while escaping English soldiers in London. Dench's matron quickly overcomes her initial shock, making no protest when Sparrow embraces her and nuzzles her neck. It's only after he departs, just as quickly as he arrived, that she discovers that the pirate – spoiler ahead – has made off with one of her jeweled earrings.
It's one of the movie's best bits and, as Stranger Tides continues, one keeps hoping – vainly, it turns out – that Dench will pop up again on screen. The actress filmed her part in a single day, on a set at the Old Royal Naval College in Greenwich, England.
Dame Judi has always known how to make an impression, no matter how brief her screen time. This is the woman, after all, who won an Oscar for Best Supporting Actress for her tart-tongued Queen Elizabeth I, who appeared on screen for eight minutes total, in 1998's Shakespeare in Love.
That part turned Dench, then 64 and already beloved by British theater and television fans, into an international movie star.
What's your favorite Judi Dench role, major or minor?
http://www.youtube.com/watch?v=2JhYY_LEUGo
Read More
Filed Under: