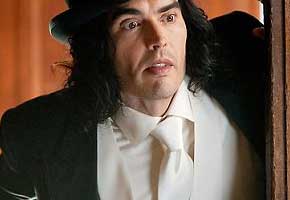 OK so we promise we won't be running lots and lots of stories about the American X Factor and who is and is not going to be judging it this year. Frankly the way things are going, they should get the contestants to decide who's going through to the finals as a judge. That'd be a more interesting spin on things, if nothing else.
But one reaction to the whole Cheryl Cole thing did catch our eye, and that was from the gallant Russell Brand, who leapt to her defence on the ITV1 breakfast show Daybreak.
Speaking in full mock-outrage, he frothed: "Our Cheryl? That cannae be right! Our Cheryl, kicked off X Factor? What the American one? And I've come to this country in good faith and they've kicked Cheryl off, our Cheryl? Oh no! She's Britain's sweetheart."
That's not the good bit, this is the good bit.
Speaking about the idea that Cheryl's accent is simply too broad for delicate American ears to process, Russell was beautifully dismissive, saying: "Is that what they don't understand – the accent? Just listen more, just listen very intently. All them things she's saying – that's English."
I tell ya, how you lot managed to understand the daleks if you can't handle basic Geordie is beyond me. They're not even from this galaxy (drumroll) and nor are the daleks (tish!).
Is this the beginning of the end for TV talent shows? Tell us here.
Read More
Filed Under: