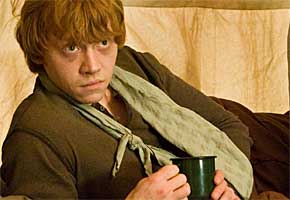 In all of the hullabaloo around the last part of the final Harry Potter film coming out, one perspective which hasn't really been examined is the coming of age of the actors who've spent their teenage years making films about magic and wizards.
They arrived as fresh-faced youngsters, and now leave as adults, and according to Rupert Grint, they can't even go back and visit the film set to reminisce, because it doesn't really exist any more. The epic battles in Harry Potter and the Deathly Hallows Part 2 have seen to that.
Talking to Empire magazine, he explained: "These sets, they did actually destroy them. The rubble you see is actually the set falling apart. It's quite weird seeing all these sets that I've grown up in as piles of rubble, there's something strange about that."
He continued: "It really nailed that down, that this was the end. Seeing the Great Hall… The place had become quite a familiar one in our lives; we'd spent a lot of time there. And now it's on fire."
And then there's the moment when you finally have to leave it all behind and move on: "The sadness didn't really hit me until the last day. We were saying goodbye and it was quite an overwhelming feeling that it was all coming to an end. I remember packing up my dressing room, that was… I had toys from when I first started."
"It was really weird doing that, and it all hit home how much this has been a huge part of my life. I find it hard to remember life before it really. It still hasn't really sunk in, I think. I don't think it will for a while."
The full interview is here. It does contain a couple of (very) mild spoilers though.
Mind you, so does this:
Will you be sad to see the end of Harry Potter? Tell us here.
Read More
Filed Under: