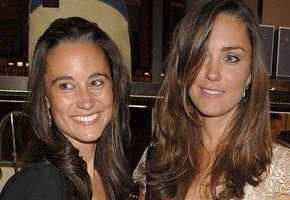 From the moment Pippa Middleton stepped out of the car at Westminster Abbey on April 29 for her big sister Kate's royal wedding, all the world's eyes have been on her. Everyone wants to know what she's wearing, who she's with, who she's working for… some might even suggest that Miss Pip (nevermind those scandalous snaps released a few weeks back) has one-upped the Duchess of Cambridge in the press since that very day.
According to The Daily Telegraph, a new online study reveals that "media coverage of the Duchess of Cambridge has dropped 94 percent after Clarence House asked that the newlyweds be allowed to enjoy their married life unhindered."
Brian Merron, an analyst with Kantar Media Intelligence, explained: "It comes as no surprise that Kate's media profile rose to such heights immediately before and after the Royal Wedding. But it's fascinating to see the post-wedding emergence of her sister Pippa in the UK media."
He added: "Her rise has been meteoric, to the extent that two weeks after the wedding Pippa overtakes Kate in our media survey. With the media focus now moving on from the newlyweds it's safe to say that Pippa Middleton's celebrity status is well and truly set to climb and climb."
In other royal wedding-related news:
• The "Britannia" state coach that was gifted to The Queen by Australia for her 80th birthday in 2006 has strangely disappeared, reports The Irish Independent. Government officials don't have the slightest clue as to where it might be, but its designer John Frecklington, who created the black-and-gold spectacle with "fragments of more than 100 British historical artifacts" like wood from Henry VIII's flagship, the Mary Rose and a piece of gold from Admiral Nelson's crown, maintains that it's not lost. Aside from that, his lips are sealed. Hmmm? Sounds suspicious to me. "Someone could have absconded with it," said Australian politician John Faulkner. "Is there any hope that the carriage will be presented to Her Majesty by the time she is 90?
http://www.youtube.com/watch?v=5TBKsR8Impk
Read More
Filed Under: