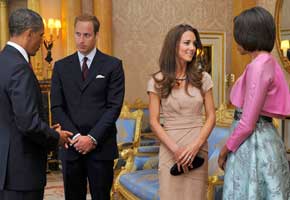 Kicking off his first state visit of the UK, President Barack Obama and his wife Michelle met with Queen Elizabeth II and Prince Philip at Buckingham Palace on Tuesday (May 24). BBC News reports that the presidential couple also chatted briefly with the sun-kissed Duke and Duchess of Cambridge, as well as Prince Charles and Camilla, prior to taking in a 41-gun salute in the Buckingham Palace Gardens.
The Obamas, who will spend the next two days at the Palace, bestowed The Queen and the Duke of Edinburgh with "a collection of memorabilia and photographs from her parents' 1939 visit to the U.S." And in return, they were given a "selection of letters from the royal archives, between past U.S. presidents and English monarchs." The President and First Lady also made a quick stop to Downing Street to meet with British Prime Minister David Cameron and his wife, Samantha. The two leaders are scheduled to resume discussions on Wednesday (May 25).
For some snaps of the historic meeting, check out The Daily Mail.
In other royal wedding-related news:
• Whether or not you're a fan of Princess Beatrice's royal wedding hat, that blush-colored fascinator has made the ginger-haired princess more popular than ever. It seems like we're seeing more and more of her these days, and yesterday (May 23), Bea was spotted at the annual Chelsea Flower Show in London. That fitted fuchsia number she wore is absolutely lovely… eat your heart out, Pippa!
• Speaking of Miss Pip, STV offers some pointers on how you too can achieve her easy breezy beautiful look just in time for spring.
• When Wills and Kate visit Canada this summer, the royal newlyweds hope to make a trip to Prince Edward Island, as Kate is a big fan of the Lucy Maud Montgomery book series, Anne of Green Gables.
Read More
Filed Under: