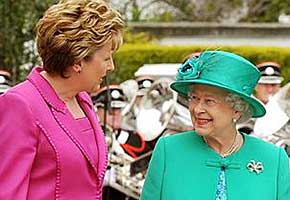 After a troubled history between the two nations, Queen Elizabeth II has become the first British monarch to make a state visit to the Republic of Ireland, BBC News reports. Irish President Mary McAleese invited the Queen to Ireland for the four-day trip, calling the event "an extraordinary moment in Irish history — a phenomenal sign and signal of the success of the peace process and absolutely the right moment for us to welcome onto Irish soil Her Majesty the Queen."
One hundred years ago, King George V visited the region, but at that time, it was part of the UK. Ireland became a self-governing state in 1922. Throughout history, the two nations have often suffered from disputes and hostile relations — more on that here —  and security surrounding the Queen's trip has been heightened due to a rise in dissident violence in the Republic. (A pipe bomb was found on a Dublin-bound passenger bus just hours before the Queen's visit.)
BBC royal correspondent Peter Hunt reported via Twitter earlier today (May 17) that The Queen's day in Dublin also saw her visiting Trinity College, where she and Prince Philip saw the historic Book of Kells. In addition, she paid her respects to fallen Irish soldiers by placing a wreath at the Garden of Remembrance.
In other royal wedding-related news:
• Step aside J. Lo, there's a new booty queen in town and that's Pippa Middleton. Let us ignore the Facebook page that's been set up in honor of her, ahem, bum and turn our attention to how the royal bridesmaid actually perfects her perfect derriere: pilates! Yep, good old-fashioned exercise, m'dears. But some daring females seeking a bodacious backside like Miss Pippa's are also opting for "bottom-lifting treatments."
• How fitting: The Wiggles, an Australian children's music quartet, have placed a bid for Princess Beatrice's royal wedding hat. Group member Anthony Field says, "We wear some pretty crazy costumes on stage, but this hat beats them all — it could bring about an Australian republic all by itself!'" Meanwhile, Time Magazine has alerted us that bidding for Beatrice's fascinator has now topped $29,000.
• For those brides-to-be out there wishing to capture Kate's elegant royal wedding style, Lord & Taylor will soon have some gorgeous and modestly priced imitations courtesy of ABS Allen Schwartz. Come July, stunning knock-offs of Kate's Alexander McQueen gown, as well as her strapless post-wedding dress, will be available via the retailer's website. We have to say that their classy look-a-like of Pippa's bridesmaid dress is absolutely fab-u-lous! (Racked)
• Following in the loose-legged footsteps of dear old Dad, Prince Harry reportedly did an impromptu breakdance to the UK pop hit "Bonkers" at the royal wedding dinner dance. And the British rapper behind the song, Dizzee Rascal, wants an award for this achievement. "I'm loving that royalty are getting down and break-dancing and I'm the cause of it," he tells Sky News. "It's an achievement in itself — someone needs to give me an award or a plaque."
Here's the song that reportedly sparked Harry's smooth moves. William's little bro has skills. Not the easiest song to dance to.
• Hollywood is just waiting to roll out the red carpet for the Duke and Duchess of Cambridge, who are set to touch down in California on July 8. British tabloid News of the World (via Monsters and Critics) reports that Tom Hanks, John Travolta, Simon Cowell, and Cheryl Cole are among the A-list celebs vying to attend an exclusive dinner party for the newlyweds.
• In a rare one-on-one interview with ITV's Alan Titchmarsh, The Daily Mail reports that The Duke of Edinburgh briefly divulges on some of his past mistakes. Princess Anne also appears in "Prince Philip at 90" next Tuesday (May 24) and opens up about some of her fondest childhood memories with her dad.
• As previously reported, Camilla, Duchess of Cornwall recently backed journalists and the freedom of expression at the London Press Club Awards. If you're a tiny bit curious about what she said, you can read her full speech on The Prince of Wales' official site.
Read More
Filed Under: