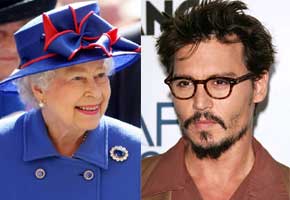 First Kate Middleton and Ellen DeGeneres were reported to be distant 15th cousins, and now The Queen and Pirates of the Caribbean actor Johnny Depp are also long lost kin?
Dr. Nick Barratt, a genealogist with The BBC's Who Do You Think You Are? series, has dug up some pretty interesting research that suggests the Queen and Depp are cousins, 20 times removed.
He told The Sunday Mirror: "When I examined Johnny's history I discovered a likely connection to the royal family. I've since established the family tree that demonstrates how. You have to go back more than 500 years to reach the point where his ancestors become royal."
Barratt continued: "I believe the balance of probability is that there is indeed a link between Depp and the royals – though I doubt we'll ever be able to prove it 100 per cent."
In other royal wedding-related news:
• When Lady Gaga took to the stage for BBC Radio 1's Big Weekend music fest in Carlisle, England over the weekend, the "Born This Way" pop priestess dedicated her rendition of the jazz classic "Orange Colored Sky" (as sung by Nat King Cole) to Prince William and his new bride. (BBC Newsbeat)
• While her older sis and brother-in-law are halfway through their Seychelles vacation, Pippa Middleton has been hanging out in Madrid, The Daily Mail reports. The royal bridesmaid was spotted enjoying a boat ride and taking in the nightlife scene with ex, George Percy. The two remain close pals after dating during their college days at Edinburgh University.
• Sarah Ferguson seems like she'll try her hand at most anything. And this time, it's hypnosis. According to The Sun, The Duchess of York opens up to her psychiatrist about her failed marriage to Prince Andrew, which is likely to appear in an upcoming episode of Finding Sarah, her new reality show for the Oprah Winfrey Network. She reportedly confesses: "He and I both wish we'd never got divorced, but we did. I wish I could go back and be the bride again, but I can't."
• Watching Will and Kate seal their royal wedding with (not one but two) sweet kisses on the balcony of Buckingham Palace was a moment to remember. And I'm sure countless royal watchers around the globe wished they too could step into their very shoes. Well thanks to YooStar2, you can now get your smooch on with the new Duke or Duchess of Cambridge via The Royal Kiss. Gamers with Kinect for Xbox 360 and PlayStation 3 can download it now for free.
• With his mum heading to Ireland on Tuesday (May 17), Prince Charles has set off to Romania. The Prince of Wales, whose five-day trip will see him staying at his own 19th century manor, has already conversed with local bakers in Saschiz. He also made a stop in the quaint village of Miclosoara to meet with Count Tibor Kalnoky. (The Associated Press)
Read More
Filed Under: