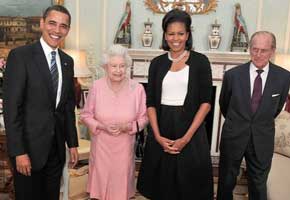 Queen Elizabeth II is set to host the U.S. President and First Lady at Buckingham Palace when they are arrive on Tuesday (May 24) for a two-day stint in the UK.
To avoid another incident like "Hug-gate" — when Michelle Obama "broke protocol" by embracing the Queen in 2009 — Time magazine suggests a few pointers. "[The Obamas] will almost certainly lodge in Buckingham Palace's Belgian Suite, quarters last occupied by William and Kate on their wedding night. They might care to remember there is no such thing as privacy at royal premises. (Tony Blair famously sired his fourth child at the Queen's Scottish retreat, Balmoral; his wife Cherie had left her 'contraceptive equipment' at home, she revealed in her autobiography, after finding on a previous visit that a maid had unpacked her 'unmentionables.')"
In other royal wedding-related news:
• Just when you lease it expect it, Sarah Ferguson takes things to the next level… and then some. In the June 2011 issue of Harper's Bazaar, The Duchess of York combines elegance with humor for one of her more memorable fashion shoots in recent years. For a sneak peek at one of these delicious snaps, check out The Daily Mail.
• If you had the chance to have Princess Beatrice's over-the-top fascinator, what would you do with it? Do you think, in all seriousness, that you might actually wear it? Or might you convince yourself that it's a rare work of art and place it on your mantle? Better yet, top your next birthday cake with it? The Frisky has a few entertaining suggestions of how it might prove useful… imagination is everything.
• William spent his formative years trolling the grounds of the lavish Buckingham Palace, whereas his lady love lived (until age 13) in a traditional two-story, four bedroom brick house in West View, Bradfield Southend, Berkshire. The Daily Mail reports that the "late Victorian" abode, which Kate's parents, Michael and Carole Middleton, bought in 1979 for a modest $56,474 (£34,700), is going up for auction June 3. It's expected to fetch more than $805,000 (£495,000).
• Today (May 20) marked The Queen's fourth and final day in Ireland. The historic trip, which is being praised for somewhat closing the gap between the two nations, saw her and Prince Philip stopping by the Rock of Cashel in Tipperary, as well as the English Market in Cork, where legions of royal watchers cheered in appreciation.
• Hannah Eiseman-Renyard, a writer and editor in London, claims that she and four friends were arrested on April 29 for "being dressed as zombies." Returning from a protest against UK government cuts, the crew was sitting in a West End coffee shop when the arrest took place. They were allegedly held in custody for almost four hours before they were released without charge. Eiseman-Reynard tells The Evening Standard: "We were illegally arrested and detained simply because the police didn't like the look of us. When it comes to battles to fight, I never imagined mine would be the right to dress up like an idiot, but I'm not going to let it slide… Being detained for nearly four hours is not an acceptable or legal consequence of wearing some fake blood."
• The tiny country of Bhutan is set to have a royal wedding of its own later this year, BBC News reports. 31-year-old King Jigme Khesar Namgyel Wangchuck, who was educated in the UK, will wed 20-year-old student Jetsum Pema in October. On his choice of wife, the king remarked: "While she is young, she is warm and kind in heart and character. These qualities together with the wisdom that will come with age and experience will make her a great servant to the nation."
Read More
Filed Under: