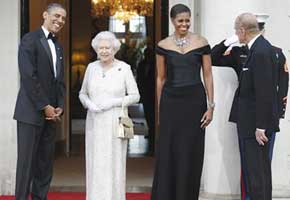 On Wednesday night (May 25), President Barack Obama and First Lady Michelle commemorated their two-day state visit of the UK with a black-tie dinner at the stately Winfield House in London. The presidential couple wanted to return the favor to the Queen, who generously hosted a state banquet in their honor the previous evening.
BBC News reports that more than 50 people were in attendance, including some of Hollywood's finest like JK Rowling, Tom Hanks, Colin Firth, and David Beckham. Patrons indulged in a three-course meal, which featured "lobster ravioli, griddled filet of aged Highland beef, crushed Jersey Royals with rosemary" and other delectable veggie dishes and desserts.
In other royal wedding-related news:
• Hey, to all the unlucky ones missed out on getting their own camel-colored "Shola" dress by Reiss, dry your eyes. There's loads of 'em on eBay, reports STV. Prices currently range between $278 (£170) and $983 (£600). Hurry and place your bids ASAP. The Daily Mirror reveals that Reiss won't be re-ordering any additional shipments like they did for Kate's "Nannette" engagement dress.
• Now that the Duke and Duchess of Cambridge have properly celebrated their recent nuptials with a dalliance in the Seychelles sun, the gossip echo chamber is going absolutely mad over when the royal newlyweds will sire an heir. "Don't get too excited," a source told PopEater. "Knowing William it won't be any time soon. He's like his father and thinks everything through before he does anything. He will be the same about planning a family."
• President Obama's brief stay in the UK wasn't without a couple of tiny gaffes. Poor guy accidentally signed the Westminster Abbey guest book with the wrong year. And after toasting to the Queen during last night's farewell dinner, he made a small speech. The only thing is, he wasn't supposed to and Britain's national anthem played on. He was, of course, unaware of such protocol. For a more detailed account of some of these royal rules, check out BBC News.
Read More
Filed Under: