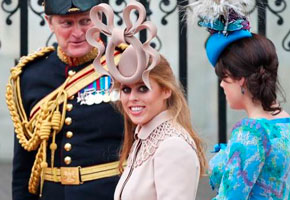 Say what you want about Princess Beatrice's oddball royal wedding hat. Its impact on popular culture has been quite remarkable, not to mention entertaining. And now, thanks to one very generous eBay bidder, UNICEF and Children in Crisis are each going to receive sizable donations.
As we previously shared, Bea put the Philip Treacy-designed chapeau up for auction just under two weeks ago. When the online sell-off came to a close on Sunday (May 22), an anonymous winner's contribution topped $130,000 smackaroos (more than £80,000). The Princess of York couldn't be more thrilled with the outcome.
She said: "It has its own personality, and I am so happy that we have raised the most incredible amount of money and can make an even bigger change for the lives of some of the most vulnerable children across the world."
In other royal wedding-related news:
• Speaking of the world's most famous fascinator, New Zealand milliner Carolyn Gibson has designed her own pale-pink replica. In the coming weeks, she will raffle it off with Trade Me in order to raise money for Christchurch earthquake victims.
• With plenty of royal watchers still chattering away about Prince William and Kate Middleton's royal nuptials, English thespian Simon Callow was thoroughly unimpressed. "I was struck by the extreme relaxation of the protagonists, and that was kind of amazing, but it was a little disappointing too, I thought, because it was such an epic event yet they looked as if they were in their own front room," the Four Weddings and a Funeral actor told The Daily Express.
He continued: "Clearly, the contrast between them and Charles and Diana was all to their advantage, and yet if these events are to be held and the taxpayers pay a great deal of money for them and they are significant meaningful spectacles of some kind or another, it would be kind of nice if the participants seemed to have some sense of the grandeur of the event."
• After relishing in some serious R&R in the Seychelles, the Duke and Duchess of Cambridge are settling back into married life. According to BBC News, St. James Palace said the newlyweds "thoroughly enjoyed their time together." But before jetting back to the UK, Wills and Kate were gifted the peculiar-looking Coco de Mer coconut, which is, ahem, shaped like a bum (just check out the photo) and apparently known for its aphrodisiacal appeal.
• So maybe Pippa Middleton's recent trip to Madrid was for fun and business? The Sunday Mirror reveals that the posterior pinup queen will soon be working with her former beau George Percy. In addition to her online editing duties with her parents' Party Pieces company, as well as her party planning responsibilities at Table Talk, Miss Pippa will chip in at Percy's geothermal energy firm. "Pip and George are really close friends so when he needed someone to help out with office stuff, she was the obvious person to ask," said an insider. "She's enjoying getting stuck in to something new."
Read More
Filed Under: