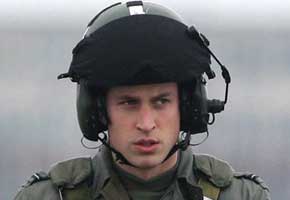 Talk about a busy week back at work. Most of us only have to deal with a backlog of unread emails after returning from holiday, but Prince William, a search-and-rescue pilot for Britain's Royal Air Force, has been involved in three emergency evacuations so far this week.
Just today (May 6), BBC News reports that William and his crew came by helicopter to the aid of a 46-year-old man who tumbled several feet down a mountain in Snowdonia, Wales, dislocating his shoulder. Earlier this week, the Prince took part in a dramatic double rescue on Lliwedd Mountain in Wales.
In other royal wedding related news:
• It's only been a week, but it seems that life as the new "Mrs. Wales" is suiting Kate Middleton quite nicely. On Thursday (May 5), the new Duchess, decked in a ruffled green sweater and a simple white tee, skinny jeans and ballet flats, picked up several bags of groceries at the local Waitrose store in Anglesey. One witness said: "She loaded all the shopping into her car on her own… she looked very happy and was smiling at people." As they revealed late last year, Kate and Wills intend on having a marriage free of servants and a staff. (The Daily Mail)
• Even the significant others of Kate's siblings are facing scrutiny in these post-wedding days. ABC News profiles Pippa Middleton's boyfriend, Alex Loudon, a former cricket player-turned-"retired financier." His royal connections go back many years: he and Prince William have been mates since their days back at Eton, the posh British private school.
• Are William and Kate expecting the pitter-patter of little (webbed) feet? The Duke and Duchess have made an unusual addition to their family: a baby penguin named Acorn. At the suggestion of followers on its social media outlets, the zoo in Upton-by-Chester, England offered an endangered Humbolt penguin to the couple as a wedding gift. But don't expect little Acorn to be a fixture at Will and Kate's home in Anglesey. He'll remain at the zoo with 49 other Humbolt penguins, which are native to coastal areas of Chile and Peru. "Hopefully the happy couple will come and see little Acorn playing in his pool very soon," says a Chester Zoo spokeman. (The Daily Telegraph)
• William and Kate have received their own urban homage. Lower East Side artist Chico has created a specially commissioned royal wedding mural in honor of the newlyweds, located at the corner of East Houston and Avenue B in New York City. Here's video of the spray can-wielding painter at work (via Bowery Boogie):
• Unlike his brother Prince Harry, Prince William looked cool as a cucumber when taking to the altar at Westminster Abbey last Friday (April 29). But he had a little help. The Daily Mail reports that William's RAF uniform contained a "special heat-absorbing material" that kept him extra comfortable, as Wills wasn't exactly keen on fainting in front of a billion people. Tailor Russell Kashket, who created the super-safe Velcro pocket on Harry's uniform that held Kate's ring, assisted with William's suit. "It was difficult to make it all without anyone knowing what it was for — we had to use a pseudonym," Kashket explained. "He was very concerned about the heat because he knew all the cameras and lights would make it very hot in the Abbey."
• Having just planted a "Wedding Cake Tree" in honor of her stepson and new stepdaughter-in-law earlier this week, Camilla, the Duchess of Cornwall continues her royal travels across the UK. On Thursday (May 5), she paid a visit to the town of Sheffield, where she chatted with enthusiastic students at Emmaus Primary, a joint Catholic and Church of England school, about the royal wedding. Camilla also attended the grand opening of the Centre for Biomedical Research at Northern General Hospital and met with professionals who treat osteoporosis. (The Sheffield Telegraph)
• If you were one of the many U.S. royal wedding enthusiasts who fell head over heels for the music played during the hour-long ceremony, you'll be happy to know that the The Royal Wedding: Official Album will be released via Decca Records on May 10. The entire ceremony, including the vows, assorted hymns and plenty of other music, will be included. (The Examiner)
Read More
Filed Under: