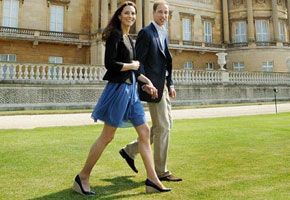 Kate will be "slowly introduced" to her new role as a royal bride, taking on a "supporting role to William" in the near term, The Daily Telegraph writes. The Duke and Duchess of Cambridge will reportedly appear in limited public engagements together in the coming months before increasing their workload as Queen Elizabeth II enters her Diamond Jubilee year in 2012, which marks the monarch's 60th year on the throne. "The Jubilee year is expected to continue the renewed enthusiasm for the royals," the paper reports, "and Catherine is likely to take on more solo commitments in order to help fulfill the demand."
In other royal wedding related news:
• As Will and Kate prep to venture across the Atlantic to visit Canada in late June, it sounds like the couple may also make a visit to La-la-land. Famed royal biographer Andrew Morton says "royal aides have penciled in a two day visit to Hollywood at the end of their tour of Canada which takes place in late June and early July." Perhaps the new Duke and Duchess will sync up with Posh 'n' Becks for a proper Hollywood lunch? A royal source says: "There is nothing in the [schedule] regarding a visit to Hollywood."
• Corfu, Kenya, and the Caribbean have been bandied about as possible honeymoon locations for the newlyweds. Now The Daily Mail weighs in with another possibility: a "£4,000 ($6,596)-a-night" exclusive villa situated on an unspecified island in the Indian Ocean. This is hardly nailing anything down, as the Indian Ocean comprises 20 percent of the Earth's surface, spanning from India in the north to Antarctica in the South, and from Africa in the west and Australia in the east.
• Why were William and Kate given the titles of Duke and Duchess of Cambridge? BBC News reporter Deborah McGurren says, "Well, Prince Charles attended Trinity and Prince Edward went to Jesus College there, while the Duke of Edinburgh only just stepped down as Chancellor of the University — so Prince William's father, uncle, and grandfather have a close association with the city."
• An accomplishment that's surely on par with becoming a Duchess and a royal wife, Kate Middleton is No. 26 on Maxim's Hot 100 for 2011. She's ahead of such well-known starlets as Kim Kardashian, Sofia Vergara, Lindsay Lohan, and Miley Cyrus, but she falls behind the likes of Katy Perry, Mila Kunis, Natalie Portman, and Taylor Swift. Kate's fellow Brit, Victoria's Secret model Rosie Huntington-Whiteley, tops this year's list.
• Prince Harry and his on- and off-again girlfriend Chelsy Davy partied it up during his older bro's big day. The two were apparently so smitten with one another during much of the evening that a cheeky Harry supposedly told Chelsy "You're next," The Daily Telegraph reports. Wow! Could the wild Harry be fancying a walk down the aisle sooner than we think?
• Give it up (again!) for the new Duke and Duchess of Cambridge. The Daily Mail reports that Will and Kate did not sign a pre-nup.
Read More
Filed Under: