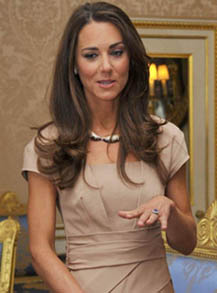 Cheers to trendsetter Kate Middleton. She sure knows how to set off a fashion frenzy.
You know that tan "Shola" number The Duchess of Cambridge wore during her visit with President Barack Obama and First Lady Michelle on Tuesday (May 24)? Well, it sent aspiring fashionistas in a mad dash to the Reiss website in hopes of shelling out $340 for that dress.
But such pandemonium proved too much for the London-based retailer's site, which crashed several times. A Reiss representative revealed to The Washington Post "that traffic to the site increased by over 300 percent when news broke that the duchess had worn their creation."
As you might recall, the cream-colored Reiss stunner Kate donned for her and Prince William's official engagement portraits last December had a similar effect.
In other royal wedding-related news:
• Has Pippa Middleton mania made its way over to Glee? If Kurt Hummel has anything to say about it, his Broadway musical honoring Miss Pippa and her famous derriere, "Pip, Pip, Hooray," may show up on the hit Fox dramedy. Sounds brilliant!
• Getting back to The Obamas' UK visit. Barack and Michelle looked like total besties with David and Samantha Cameron when serving up tasty BBQ dishes to British and American war vets earlier this week. And the menu looked to be a scrumptious one with a mix of British sausages, Kentish rosemary lamb chops, hot Jersey Royal potatoes, as well as hearty American hamburgers, corn on the cob and coleslaw.
Read More
Filed Under: