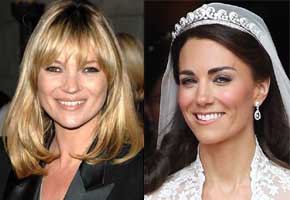 She may be one of the most recognizable "Kates" out there, but English supermodel Kate Moss was one of the millions of giddy royal fans who watched the world's most famous Kate — Kate Middleton — marry Prince William last month.
So what does the iconic Calvin Klein stunner think of Middleton and her elegant wedding day style? "Oh I love her!" Moss told The Daily Telegraph's Bryony Gordon. "She was so chic and seamless. And just beautiful, it was just as a royal wedding should be."
And with her Kate counterpart now The Duchess of Cambridge, has Moss ever entertained the thought of having a title? No, not completely, but she did joke that "a Dame's for old women." "I'd quite like to be Lady Kate," she added. "But I'm happy just as I am."
In other royal wedding-related news:
• On Day 2 of her historic visit to Ireland, Queen Elizabeth II stopped by Croke Park on Wednesday (May 18) to pay her respects those 14 patrons who died during a British military attack at a 1920 Gaelic football match, BBC News reports. Tonight, she'll give a speech during a dinner at Dublin Castle, where British Prime Minister David Cameron will also be in attendance.
She and Prince Philip also did a tour of the St. James's Gate Brewery, the home of Guinness beer. While her husband was seemingly enamored with how one should pour the world-famous stout, the 85-year-old British Monarch didn't indulge in a taste. Perhaps it was just a touch too early in the day?
http://www.youtube.com/watch?v=QQWGotV2FpY&feature=player_embedded#at=13
• Andrew Morton's latest royal biography is now available via St. Martin's Press. William & Catherine: Their Story, of course, highlights the Duke and Duchess of Cambridge's much-adored love story and includes other intimate details. And of his new book, the best-selling British scribe divulged to Entertainment Tonight that he suspects Princess Diana would have felt some competition with her beloved Wills' new bride, as she ultimately thrived on being the one in the spotlight.
• The sparking rose wine that William and Kate served at their royal wedding reception took top honors the annual International Wine Challenge in London this week. Chapel Down's Rose Brut bubbly, which is priced at $40 (£24.99), won in the sparkling rose category. "We are very proud. It makes all the hard work worthwhile," Frazer Thompson, chief executive at Chapel Down, told Britain's Daily Express on Tuesday (May 17). "Demand has never been higher and this accolade reinforces the quality of the wine that the team is producing. The award will also enhance our export business, especially in the USA."
• The Ashton-Drake Galleries, a collectible doll company in Niles, Illinois, rushed out a Kate royal wedding figurine within hours of the ceremony. To pull this off, seamstress Yermen Romero looked at real-time photos of the wedding online, sketched out the design, gathered the fabric, and sewed a doll-sized replica of Kate's dress — all before 10 am Central time on April 29. By noon, the "Princess Catherine Royal Elegance Bride Doll" was up on the company's website. "The dress is very simple but elegant, and it doesn't show but it is a lot of work, unique, very good taste," Romero told The Chicago Tribune.
• Prince William and Kate reportedly did a treasure island tour of the Seychelles — in a $3.2 million yacht. The Sun (via Fox News) writes that the royal honeymooners "spent a day cruising between former pirate hideouts Praslin and La Digue" while dining on sushi and Parma ham. We're not conspiracy theorists, but there's a new Pirates of the Caribbean movie out this weekend. Coincidence? Johnny Depp is Prince William's cousin after all…
• Did the royal wedding actually have a negative impact on Britain's economy? (Business Insider)
Read More
Filed Under: